Water damage is always a potential problem because excess water finds its way into homes and buildings in so many ways and porous building materials allow it to spread quickly.  Your home or building may experience excess water from heavy rain, floods, plumbing leaks, burst pipes, and sewage backups and if the water is given enough time to spread, it can cause serious structural damage.  The other major issue with water damage is that it often leads to mold growth which contributes to the structural damage and poses serious health risks. 
ServiceMaster Restoration by Complete
provides water damage restoration services to remove water and moisture from homes and businesses in Monroe Township, East Brunswick, Edison, and the surrounding towns of Middlesex County, NJ.  Our technicians will show up within 2 hours of your call to help contain the damage and begin the restoration.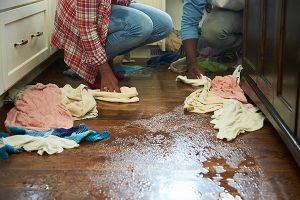 The reason water damage can become an emergency inside a home is because the most commonly used building materials like wood and drywall are absorbent.  Water gets absorbed into these materials rather easily which allows it to spread throughout the home and cause serious structural damage.  As these building materials absorb more water, they become much more at risk for mold growth which can accelerate the structural damage.   Our technicians use state-of-the-art drying equipment and the in-place drying method to remove all excess water and moisture from affected furnishings and building materials.  We normally complete the water damage restoration process in 3-5 days.
Our water damage restoration services include these steps:
Emergency Response: Our technicians come to your home or building within 1-2 hours of your call to contain and evaluate the damage.
Water Extraction and Drying: We extract the water with our advanced drying equipment and set up dehumidifiers to dry wet areas and materials.
Reinstallation and Cleaning: We can clean and restore the damaged areas and put any large objects that were moved back in their place.
Frozen Pipes
One potential cause of water damage, especially during cold weather, is a burst pipe caused by water freezing within the pipe.  Frozen pipes are common in uninsulated areas of a home or building as cold temperatures will cause the water to freeze.  The ice slowly expands within the pipe until the pressure is too much and causes the pipe to burst.  Pipe bursts are dangerous because they can leak out hundreds of gallons of water into your home in an hour.  If a pipe has burst in your home, turn off the water at the emergency shut off valve and call ServiceMaster Restoration by Complete right away.  We will arrive quickly at your home to remove the water before it causes serious structural damage.  The best ways to prevent burst pipes are to keep the pipes in uninsulated areas warm with extra heat or pipe insulation, and routinely check your pipes for signs of damage or wear and tear.
Some water damage may not seem like a big deal but if you do not react to it quickly enough, it could cause serious property damage and even lead to mold.  Make sure you call ServiceMaster Restoration by Complete as soon as you find water damage in your home or business in Middlesex County, NJ.  Our technicians will arrive quickly and stop the spread of the water to prevent extensive damage.  Give us a call 24 hours a day at (732) 751-4004 for emergency water damage restoration.
ServiceMaster Restoration by Complete provides water damage restoration for homes and businesses in Monroe Township, East Brunswick, New Brunswick, Old Bridge Township, Edison, Woodbridge Township, Metuchen, Perth Amboy, and Piscataway Township in Middlesex County, NJ.