Hoarding disorder is a problem for millions of Americans and the consequences of hoarding behaviors can be very serious for those affected and their families.  This disorder stems from deep anxiety issues that prevent those affected from throwing anything away.  Because of this, all types of objects accumulate in the home and increase the risk of fire, injury, or illness from bacteria or other harmful substances. 
ServiceMaster NCR
provides hoarding cleaning services to help those who struggle with hoarding in McLean, VA get their homes cleaned and restored.  We have advanced cleaning equipment and products to effectively restore the home and we treat the affected individuals with compassion and respect.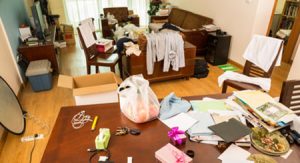 Those who are affected by hoarding have difficulty seeking help on their own.  They are usually embarrassed by the condition of their home, especially in front of friends and family members.  A trusted friend or loved one must intervene to help the individual understand the urgency of restoring their home.  We understand that all hoarding situations are sensitive and we treat the affected individual with a sense of respect throughout the project.  The final decision on what to do with each hoarded item ultimately rests with the affected individual so that they are actively involved and in control of the process.
The technicians of ServiceMaster NCR are fully prepared to clean up any case of hoarding and restore the home to a safe condition.  Each of our specialists are licensed, certified, and insured and we use state-of-the-art cleaning products and equipment.  Our hoarding cleaning procedures follow the guidelines laid out by the EPA, OSHA, and the Department of Transportation and we can also remove biohazard materials such as bacteria, bodily fluids, mold, or decomposing animals.
Our hoarding cleanup services include the following:
Decontamination: The entire home is cleaned and decontaminated once all unwanted hoarded items are removed.
Deodorization: We can remove all lingering odors with our powerful deodorizers.
Proper Disposal: We make sure all unwanted items are either thrown away, recycled, or donated and we take biohazard materials to a licensed medical waste facility.
Hoarding is never a light situation as it can quickly lead to living conditions that seriously threaten the health and safety of those within.  If you suspect that someone you know may be hoarding, reach out to them for help and call ServiceMaster NCR to guide the cleanup.  We are available 24 hours a day at (703) 596-3171 to help those in McLean, VA that struggle with hoarding issues.