We all have a tendency to keep items that serve little purpose and hold no real value. Whether it is on purpose or not, it can be easy to let things pile up. Individuals struggling with hoarding issues take this habit to the extreme. It can even get to the point where you or your loved ones are in danger because of excess clutter, fire hazards, and more. While this can become a highly sensitive topic, it is sometimes necessary to hire hoarding cleaners, such as us here at
ServiceMaster of the Shore Area
, to restore safe living conditions. We proudly work with affected family members of hoarders, as well as the individuals themselves in Manasquan and Brick, NJ, to restore their property to a livable condition.
A day to day concern that arises in hoarding scenarios is that of basic health. When items are stacked higher and higher, there is not only a tipping hazard, but a sanitation hazard, as well. Dirt, dust, and mold can easily build up in these areas, which can trigger respiratory infections, allergic reactions, and worse.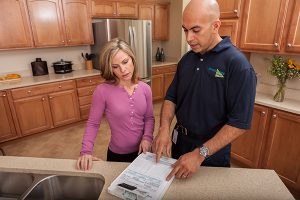 Blocking emergency exists is another major concern when hoarded items impede escape avenues. If individuals in the home become trapped in a room because of a burglary, fire, or other reason, it is important to be able to move freely, as well as have access to multiple escape routes. Speaking of fires, hoarded items are notorious for acting as fuel, which only increases the devastation left behind in these events.
Hoarding cleaning often begins when a trusted family member or friend intervenes for the betterment of the affected individual. It is often a difficult, and sensitive, undertaking, but hoarders will very rarely make the change by themselves. In many cases, the hoarder is too embarrassed to seek help, or simply does not realize the problem. They need to be shown the potential harm they are causing to themselves and their loved ones.
When you decide to work with us here at ServiceMaster of the Shore Area for our hoarding cleaning services, you can expect the following:
Clutter Removal: While consulting with affected individuals, we gradually remove unnecessary and unwanted items.
Decontamination: Once excess clutter has been removed, we fully clean, sanitize, and restore the entire home in order to bring about livable conditions once more.
Deodorization: Hoarded items harbor mold and bacteria that can give off very nauseating odors. We provide full deodorization services for this reason.
Proper Disposal: Unnecessary and unwanted items are properly disposed of, recycled, or donated. We are also licensed to remove biohazard material and medical waste from the property.
Simply allowing cleaning crews onto an affected individual's property can be a monumental step. Here at ServiceMaster of the Shore Area, we fully understand the sensitivity of this process. We always work to establish trust with the affected individual before disposing of any items.
Additionally, our highly trained technicians are certified to handle biohazard materials. We fully comply with rules and regulations set by the EPA, OSHA, and Department of Transportation.
If you would like to work with us here at ServiceMaster of the Shore Area for our hoarding cleaning services, please feel free to give us a call at (732) 722-5858. We are available 24 hours a day to take your call, and proudly service those in the Manasquan, NJ, and Brick, NJ, areas.
---
Related Hoarding Cleaning Services
Hoarding Cleaning in Ocean City and Egg Harbor Township, NJ
Hoarding Cleaning in Middletown, NJ
Hoarding Cleaning in Toms River, NJ
Hoarding Cleaning in Wildwood, NJ