Unfortunately there are heinous crimes committed each day in the U.S. that may leave behind a chaotic crime scene.  ServiceMaster EMT, a nationwide company that specializes in crime scene clean up, provides reliable crime scene cleanup services for Los Angeles and the surrounding areas.  We have developed a thorough procedure to restore crime scenes to their safe, natural state.
Crime scene clean up is a specialized procedure because law enforcement is investigating the scene which means that evidence must be protected to avoid cross-contamination that could compromise the investigation.  Crime scenes are also very emotional scenes due to their gruesome nature and the effects of the crime on those involved.
ServiceMaster EMT's Crime Scene Cleanup Management: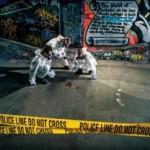 The professional crime scene clean up staff from ServiceMaster EMT will immediately arrive on the scene to begin the cleanup process with specialized equipment and decontaminants to remove biohazards and restore the scene to its natural state.  Our highly trained technicians use the proper cleaning tools, protective gear, and remediation disposal materials necessary to effectively clean up the scene.
Our crime scene cleanup process includes:
Decontamination: We remove blood, body parts, and fluids as well as any other contaminants that could potentially cause harm to people and pets.
Deodorization: We remove unpleasant odors with powerful deodorizers.
Proper Disposal: We can properly dispose of biohazard material in the right containers and transport them to a specialized disposal facility.
Continuous Monitoring: We provide quality control and communication plans that are unmatched in the industry to ensure that the job gets done properly.
Insurance Assistance: If an insurance claim is made, we can work with the insurance provider and law enforcement to coordinate the claim.
Family Assistance and Support: We provide assistance and support to families and loved ones affected by the tragedy to help them through a difficult time.
Certified Technicians: Our specialized technicians follow all local, state, and government regulations for crime scene clean up.
ServiceMaster EMT has been in crime scene clean up service for over 15 years and they guarantee to delivery professional crime scene cleaners to LA California and the surrounding communities – call (888) 767-9075. Our phone lines are open 24 hours a day, 7 days a week to respond to crime scene cleanup needs within a few hours of the call.