If a tragic event such as an accident, homicide, or suicide occurs that requires bio clean services for hazardous materials, contact ServiceMaster EMT.  ServiceMaster EMT has been providing biohazard cleanup services to the Los Angeles area for over 15 years and has become one of the most trusted names in removing biohazard materials such as blood and tissues from trauma scenes.  We work with a sense of compassion and we can assist families with finding counseling to help cope with the emotional implications of a traumatic event.
Reliable Bio Recovery Company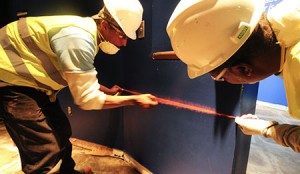 The technicians of ServiceMaster EMT are highly trained in bio recovery and can effectively remove all types of biohazard material and bio-wash affected surfaces with our unique 3-step process that sanitizes and deodorizes the scene.  We make sure to remove any furnishings such as carpet and flooring that has not been affected to salvage the rest of the area and make it safe to use.
Our bio clean services include:
ServiceMaster EMT is a nationwide provider of bio clean services and our reliable biohazard cleanup plan sets the standard for the industry.  Here's what you can expect from our highly trained technicians:
Our technicians have received blood borne pathogen (BBP) training.
Our biohazard cleanup procedures adhere to federal and state laws.
Our technicians arrive in an unmarked vehicle to protect your privacy.
Our technicians wear the appropriate personal protective equipment (PPE).
We safely remove and store all biohazard materials in the appropriate containers for disposal at an approved site.
We work with law enforcement for crime scene investigations.
We will work with your insurance company to assist with the claim.
Our staff understands that the emotional trauma that comes with a tragic scene can be very overwhelming which is why help our customers find professional counselors that can help them cope with the trauma associated with suicide, homicide, or unattended death.
For professional bio clean services in the LA California area, contact ServiceMaster EMT anytime at (888) 767-9075 and we will dispatch a team of technicians to your location.