Mold spores are constantly circulating through the air and once they find the right conditions, they will develop into mold growth and start spreading throughout a building.  All it take is a moisture source and a food source such as wood or drywall and mold growth can start spreading rapidly and destroying the surfaces it grows on.  ServiceMaster Bay Area provides mold removal services for homes and businesses in League City, TX that have been affected by mold growth.  We can completely remove mold from the surfaces in your home or business while keeping the unaffected areas protected.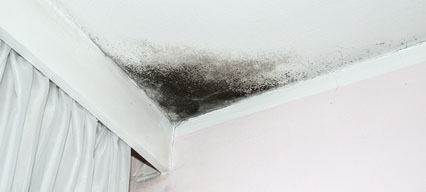 Mold Remediation
Mold growth is a problem that should be dealt with right away because not only will it destroy property as it spreads, but it will also increase the risk for certain health problems such as allergies and infection.  It is also important to make sure professionals that are trained in proper mold removal methods handle the job because using household cleaners such as all-purpose cleaner will agitate the mold and cause it to release more spores.  As we work to remove mold from your home, we will keep it confined to the affected area so it does not spread.  We will also find the moisture source that is causing the mold to grow and fix the problem to prevent future growth.
As soon as you see any sign of mold growth in your home or building, contact ServiceMaster Bay Area immediately.  We provide complete mold removal services in League City, TX 77573 and the surrounding areas and we will repair or replace the surfaces most affected by the mold.  We can be reached anytime at 281-916-1699 to provide a free estimate for our mold removal services.
ServiceMaster Bay Area also provides: