ServiceMaster Kwik Restore
Dealing with blizzards and storms can certainly be frustrating throughout the year. No matter the season, there is always the threat of a large storm. For southern Wisconsin, while the residents are not faced with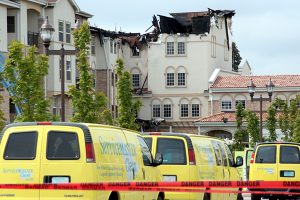 extreme storms, such as earthquakes and tornadoes, the effects of blizzards and thunderstorms can still cause severe damage. This can include large amounts of snow putting weight on roofs and collapsing the structure as well as strong winds blowing over large objects to fall on homes and buildings. When these disasters happen, there should be no hesitation taken before calling emergency services.
ServiceMaster Kwik Restore
is available 24/7 in the Lake Geneva, WI area to provide storm damage restoration services. Whether it is repairing your building structure or restoring damage, our technicians will arrive right away and begin the recovery process within 2 hours of your initial call.
Restoration from Blizzards
Although it is not common to receive tornadoes in southern Wisconsin, strong winds and heavy snow can blow over large objects, such as signs, street lights, telephone poles, and more. If one of these has fallen on your property, it is important to ServiceMaster Kwik Restore right away. This is because the added weight from the heavy objects will continue to weaken what is left of your building materials. They can collapse at any moment as a result of too much pressure. That is why our technicians will arrive right away to remove the object, stabilize the home or building, and begin the repair process. Each of our technicians has been IICRC-certified to repair and restore homes, quickly returning them to their original conditions.
Damage Caused by Rain and Wind
Although home and business owners do not have to worry about blizzards during the warmer months, rain and thunderstorms are no stranger to the Midwest. Flooding can even occur as a result of the snow melting, seeping into foundations and causing severe water damage. In addition, strong winds from thunderstorms can tear off siding, blow over large objects, and carry debris to break windows. If any of these kinds of damages have occurred on your property, do not hesitate to call ServiceMaster Kwik Restore. Our services will arrive immediately to prevent any damage from spreading while beginning the reconstruction and restoration process. Finally, we guarantee that all damage will be handled by our technicians while you can focus on your daily activities.
Our storm damage restoration services completely cover all of the following:
Emergency tarping and board ups
Reconstruction of exterior and interior building structure
Removal of all debris around property (branches, rocks, broken glass, sticks, etc.)
Prevention of water or fire damage from spreading
Water and/or fire damage restoration for all affected surfaces
If you have experienced severe damage caused by strong winds or heavy snow, call ServiceMaster Kwik Restore right away for emergency storm damage restoration services in the Lake Geneva, WI area.