ServiceMaster Kwik Restore
There is a constant presence of mold spores in the air, which is why it seems like mold can appear in your home out of nowhere.  All it takes is moisture and a food source and the airborne mold spores will quickly form into mold growth.  Mold in homes and buildings is dangerous because it can result in extensive damage to the affected surfaces and put those within at risk for adverse health effects.  ServiceMaster Kwik Restore provides mold remediation services to clean up mold growth in homes and businesses in Lake Geneva, WI.  We use advanced testing and remediation equipment to find and remove mold from commercial and residential buildings.
Effects of Mold Growth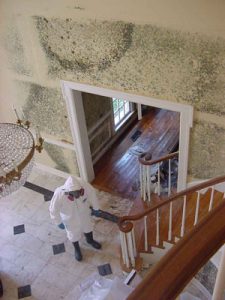 Moisture is the main cause of mold growth but it also needs a food source.  In most homes and buildings, cellulose, which is found in drywall, wood, and other building materials, is the preferred food source.  Mold colonies eat the surfaces they grow on and in time, this can lead to irreversible damage.  This is why it is important to react to the first sign of mold growth.  The potential health effects of mold are also a major issue.  Mold spreads by dispersing its spores and breathing in these spores is what triggers allergic reactions such as itchy eyes and throat, runny nose, and skin irritation.  Prolonged exposure can cause more serious infections.
Why Call us for Mold Remediation
ServiceMaster Kwik Restore is a Certified Mold Remediator (CMR) and a member of the Indoor Air Quality Association (IAQA).  Our technicians provide accurate testing to find all mold growth in your home and we have the right cleaning products and equipment to completely remove mold.  We form a mold removal plan after completing a thorough assessment of the growth and damage.
Mold Restoration – What to Do
Call ServiceMaster Kwik Restore right away in order to prevent the mold from spreading.
Provide proper air flow throughout the property by turning on the fan or dehumidifier.
Wear gloves, a mask, and protective eye wear when present around the mold.
Wipe down any walls that are wet, as long as they do not contain any mold.
If it is raining outside, close all windows and doors to prevent additional moisture from coming in.
Mold Cleanup – What to Avoid
Avoid any direct contact with the mold. As many types of mold are toxic, inhaling the spores can cause severe health effects.
Do not disturb any visible mold.
Do not place a fan directly in front of the mold.
Do not try to paint or caulk over the mold.
Do not try to clean the affected areas yourself. Improper cleaning procedures will only cause it to retreat further within the affected surface.
The mold removal services we provide include these steps:
Complete testing and evaluation
Report of our evaluation to your insurance provider
Isolation of the mold growth to protect unaffected areas
Implementation of a mold removal plan based on our evaluation
Complete removal of all mold growth
Mold growth can affect your health as well as your property so make sure you act fast if you discover mold growth.  ServiceMaster Kwik Restore will send mold remediation technicians to your home or business in Lake Geneva, WI to test for and remove all mold before it causes permanent damage or causes serious health issues.  We are available 24 hours a day at (262) 395-7793 to respond to your mold removal needs.