ServiceMaster Kwik Restore
The increased attention on hoarding in the last several years has allowed a higher understanding of the disorder; therefore, we can provide higher quality services for those affected.  Those who struggle with hoarding battle severe anxiety. This results in an inability to throw away anything in the home, therefore, allowing a buildup of items. The accumulation of hoarded items increases the risk of fires and injuries by cluttering the home and the hoard may also harbor the growth of mold or bacteria.  ServiceMaster Kwik Restore provides complete hoarding cleaning services to clean and sanitize the homes of hoarders in Lake Geneva, WI.  We use the best cleaning products and equipment available to restore the home to a safe condition and we work with the affected individual to sort through the hoarded objects.
Understanding Hoarding Cleaning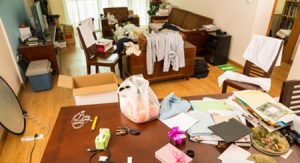 Cleaning the home of a hoarder is not something to be taken lightly; immediate cleaning and restoration can be overwhelming for the affected individual.  In fact, it is rare for a hoarder to seek out cleaning services themselves because they have an attachment to the objects in their home. A trusted friend or family member must approach the affected individual to help them start the cleaning process.  Our technicians approach hoarding cleaning projects with the utmost care; we work to build feelings of mutual trust with the affected individual before any cleaning begins.  ServiceMaster Kwik Restore will then form a cleaning plan with the individual and their family, allowing them to make the final decision whether to throw away, donate, or recycle the unwanted items.
Our technicians arrive to the scene with advanced cleaning products and equipment to deep clean and deodorize the homes of hoarders.  We are licensed and insured to handle any hoarding situation, using caution while working with our personal protective equipment (PPE).  The work is completed within the rules and regulations of the Department of Transportation, the EPA, and OSHA.
Hoarding Services
Our hoarding cleanup services consist of the following steps:
Decontamination: Our technicians sort through the hoarded objects, cleaning and sanitizing the home once unwanted objects are removed. We can also handle the removal of biohazard materials including bacteria growth and dead animals.
Deodorization: We use powerful deodorizers to remove strong odors.
Proper Disposal: We will dispose, recycle, or donate unwanted hoarded items and ensure biohazard materials are disposed at a licensed medical waste facility.
It is imperative for you to reach out to a hoarder as soon as you notice a problem. This way ServiceMaster Kwik Restore can help them clean their home before the situation becomes too dangerous.  Our technicians will approach the situation with a sense of compassion for the individual and make sure the home is effectively cleaned and disinfected.
ServiceMaster Kwik Restore is available 24 hours a day, 7 days a week at (262) 395-7793. Call us for more information about the benefits of our hoarding cleaning services in Lake Geneva, WI.