ServiceMaster Kwik Restore
You might be surprised at the amount of use your furniture receives over their lifespan. But you might even be more surprised if you could see all of the dirt, stains, and debris if you remove the fabric. It is ultimately these substances that are accelerating the deterioration process of your beautiful furnishings. However, there is a way to stop this from happening and even restore your upholstery. ServiceMaster Kwik Restore provides professional furniture and upholstery cleaning services in the Lake Geneva, WI area to completely restore all types of furniture to their original conditions. Each of our technicians have been certified and trained to carefully apply specialized products that will leave the fabric looking as it did when it was first manufactured.
Commercial Furniture Cleaning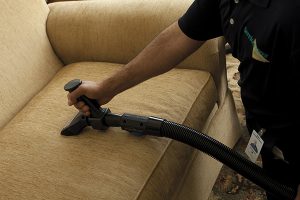 While many business owners are too busy to think about hiring commercial upholstery cleaning services, they may not be aware of the benefits that are associated with them. While clean furnishings are important in maintaining the professionalism within an office, dirty and discolored furniture can actually deter a prospective client from doing business. With the use of cleaning services, our technicians will use an advanced technique, called the hot water extraction method, to deep clean and remove all spots and debris from within the fibers. They are also certified to treat all types of fabric when restoring them to their original conditions. Finally, when they are finished, you can look forward to maintaining a clean, healthy, and professional working area for you, your employees, and visitors.
Our upholstery cleaning services cover the following procedures:
Pre-inspection of the furniture and upholstery
Pre-treatment and vacuuming to remove all loose debris
Application of the hot water extraction method to remove all remaining debris and spots
Frame washing and polishing
Residential Upholstery Cleaning
While it is essential to maintain professionalism within an office building with clean furniture, dirty and worn upholstery can also negatively impact a first impression of a guest within your home. When you come home from work, it is nice to finally relax on clean, comfortable furniture.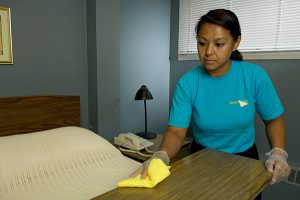 But when it becomes worn and deteriorated, it can quickly lose its comfort and softness. It can even take away from the aesthetics of the entire room if treatment is prolonged. However, ServiceMaster Kwik Restore uses the hot water extraction method that will leave your furnishings just as they did when they were first manufactured. Our equipment and products are especially designed to remove even the most deeply embedded debris from all different types of fabric.
In order to maintain the comfortability and clean condition of your furniture, it is important to have regular cleanings to prevent it from becoming worn and discolored. Our services guarantee the removal of all debris and stains from within the fabric. ServiceMaster Kwik Restore is available 24/7 to provide professional furniture and upholstery cleaning services at (262)395-7793 in the Lake Geneva, WI area.