ServiceMaster Kwik Restore
The thought of a fire can strike fear in the hearts of homeowners and business owners as it can take away everything you have worked for in an instant.  A fire not only causes intense physical damage to a home or building, but also puts the safety of those within in serious jeopardy.  Putting out the fire does not stop the damage either because byproducts of the fire like soot and residue will continue to spread and settle on surfaces and objects.  ServiceMaster Kwik Restore provides fire and smoke damage restoration in Lake Geneva, WI to help homes and businesses that have experienced a fire.  We can repair the damage caused by the fire and restore surfaces and objects affected by soot and corrosive byproducts.
Restoring Fire and Smoke Damage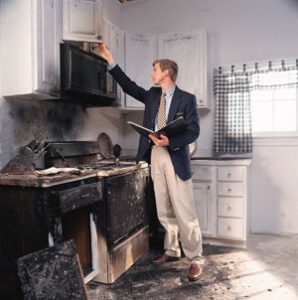 Fire and smoke damage restoration is an emergency service because the longer you delay the restoration, the more damage the soot and corrosive byproducts will cause.  The technicians of ServiceMaster Kwik Restore have received intense training and IICRC certification to handle the restoration for any case of fire damage.  Our state-of-the-art equipment allows us to provide effective corrosion control and neutralization, and we can clean and restore furnishings and building materials damaged by the fire or smoke.
The biggest causes of damage after the fire has been extinguished are soot from the smoke and corrosive byproducts formed when synthetic materials are burnt.  Both soot and corrosive byproducts continue to linger after a fire and they can cause etching and discoloration, even on surfaces and objects that were untouched by the fire.  Many of the materials affected by soot and corrosive byproducts can become permanently damaged if they are not cleaned up soon enough. ServiceMaster Kwik Restore can effectively restore surfaces and objects that have been tarnished by soot and corrosive byproducts using our powerful chemical cleaners during the fire damage restoration process.
Fire Damage Repair – What to Do
Call ServiceMaster Kwik Restore for emergency fire cleaning services and to prevent additional smoke and soot damage from occurring.
Remove any pets from the property before the technicians arrive.
Place double layers of cheesecloth over the supply and return registers to prevent floating soot from causing additional damage to the affected materials.
Replace the furnace filters.
Keep foot traffic to a minimum to avoid stirring up the soot and causing additional damage.
Remove any open food containers from the pantry, cabinets, refrigerator, and freezer.
Open any windows and doors to allow for proper air circulation.
Cover any antiques, upholstery, and furniture with bedsheets to prevent additional soot from settling in.
Fire Damage Cleanup – What NOT to Do
Do not use any DIY techniques to try to clean the damage yourself. Improper cleaning methods can actually worsen the damage.
Do not eat any food that was exposed during the fire.
Do not enter any room with severe structural or electrical damage.
Do not use any electrical machinery until completely examined by a fire damage repair technician.
Our complete fire and smoke damage cleanup services include the following steps:
Emergency pre-cleaning
Content cleaning
Content pack-out
Wall and ceiling cleaning
Odor removal
The first thing you must do in a fire is make sure everyone has evacuated safely and once this is done, you need to turn your attention to the restoration immediately.  Call the experts of ServiceMaster Kwik Restore for 24/7 fire and smoke damage restoration services as well as soot removal at (262) 395-7793 in Lake Geneva, WI and the surrounding communities.