ServiceMaster Kwik Restore
The condition of the carpet in a commercial or residential space often determines the overall look of the space.  A clean, well maintained carpet will improve the overall appearance of a home or office, allowing visitors a better first impression. ServiceMaster Kwik Restore provides professional carpet cleaning services to effectively clean and restore carpeting for homes and businesses in Lake Geneva, WI.  We safely deep clean all types of carpet with the hot water extraction method that removes deeply embedded dirt and stains.
Although people walk on carpets on a daily basis, many do not realize the kind of wear and tear they add to the fibers. Consistent foot traffic grinds dirt and debris into the carpet fibers; as the debris continues to accumulate, the carpet will not only look faded and dirty, but tear at the seams.  You can reduce the debris buildup by regularly vacuuming, but the only way to completely remove debris and treat stains is to hire professional carpet cleaning services.
Hot Water Extraction Method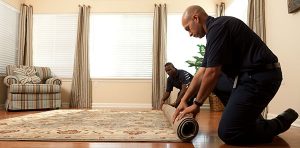 ServiceMaster Kwik Restore uses advanced cleaning equipment with the hot water extraction method to remove dirt and debris, restoring the overall appearance of your carpet.  A specialized cleaning wand deposits a cleaning solution of hot water and a mild detergent directly into the fibers to loosen the embedded debris.  The same wand extracts the water and the loosened debris out of the carpet and deposits it into a truck-mounted holding tank.  The hot water extraction method has been proven safe and effective for all carpet types and you will be able to use your carpets within a day of the carpet cleaning.
Our carpet cleaning services include the following:
Pre-Treatment: We start by treating spots and stains with specialized carpet cleaning products.
Hot Water Extraction: We use the hot water extraction method to clean the entire carpet.
Long-Term Protection: We protect your carpet with our stain solution.
Convenience: Our carpet cleaning services are usually done within several hours and it will take less than a day for your carpet to dry.
Free Estimate: We will give you a free estimate after our initial inspection of the carpet.
Guarantee: We make sure you are satisfied with the quality of our carpet cleaning work.
Your carpet can become dirty or faded very quickly, which is why ServiceMaster Kwik Restore recommends professional services at least once a year.  Our professionals have the training and equipment to ensure that the debris is completely removed from your carpet for a better appearance and longer life.
We are available 24/7 at (262) 395-7793. Contact ServiceMaster Kwik Restore for more information about our carpet cleaning services in Lake Geneva, WI.