When a major disaster causes damage to your home, the damage almost always affects your personal items as well as your home and furnishings.  Having your personal belongings damaged in a disaster only adds to the frustration and many of your items can even become unsalvageable if they are not restored quickly enough.  ServiceMaster Disaster Restoration and Recovery provides content cleaning and pack-out services to help homeowners in Fremont, CA clean and restore their damaged items following a disaster.  Our technicians will clean your content at your home but if your home is heavily damaged or your content requires more thorough cleaning, we can do a pack-out to take your content to our facility.
Content Cleaning Services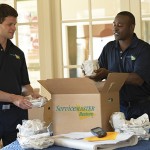 The lingering effects from a major disaster always have the potential to cause permanent damage which can happen to your personal items as well as the structural elements and furnishings of your home.  You should inspect the damage in your home immediately after a disaster and make sure that all of your damaged personal belongings are included in the restoration process.  ServiceMaster Disaster Restoration and Recovery can effectively clean and restore all damaged personal belongings using the best cleaning products in the industry and we can also provide deodorization services if necessary.  Our technicians can do the full content cleaning on-site if your home is in stable condition and we can assist you with related insurance claims.
Pack-Out Services
Sometimes a major disaster can cause extensive enough damage to leave a home unstable and when this occurs, it is best for any content cleaning to happen off site.  In these situations, our technicians provide pack-out services to take all of your damaged items to our facility where we can thoroughly clean and restore them as well as put them in storage as your home is being worked on.  As we pack up your damaged belongings to take them to our facility, we record every item in an inventory list that will be provided to you and your insurance company.  When your content and your home are ready, we will deliver your items back to you.
Dealing with significant damage to your home or furnishings is frustrating enough but when the damage extends to your personal items, it can make the situation even more difficult.  ServiceMaster Disaster Restoration and Recovery provides content cleaning and pack-out services as part of our restoration services to restore your personal items before they become permanently damaged.  Our phone lines are open 24 hours a day at (408) 457-0633 to provide emergency restoration services including content cleaning and pack-outs to Fremont, CA and the surrounding towns in Alameda County.
---
Related Content Cleaning and Pack-Out Services
Content Cleaning and Pack-Out Services in Los Altos, CA
Content Cleaning and Pack-Out Services in Palo Alto, CA
Content Cleaning and Pack-Out Services in San Jose, CA
Content Cleaning and Pack-Out Services in San Mateo, CA
Content Cleaning and Pack-Out Services in San Francisco, CA