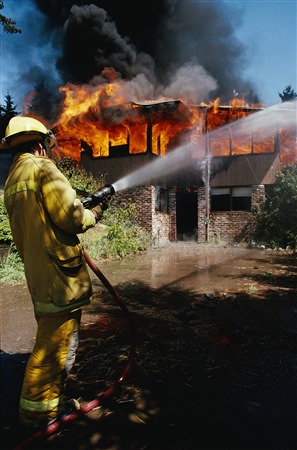 To see your home or business go up in flames is an absolute nightmare of a thought. Not only would you, your loved ones, and many others be at risk, but your irreplaceable personal belongings could be destroyed, as well. Obviously, if this terrifying event occurs to your property, it is essential that you call your local fire department right away to put out the blaze. However, once everybody who occupies the building is safe, you should call us here at ServiceMaster Restoration by Complete. Time is of the essence when it comes to restoring your property and personal belongings, and we address both when you take advantage of our fire damage restoration services. We can arrive within 1 to 2 hours of your call to begin the restoration for your home or business in the Clifton, NJ, area.
We all know the destruction that fire can cause, especially in a home or office setting. That being said, not many realize that the resulting smoke, soot, and other corrosive byproducts released by the blaze can cause just as much, if not more damage. This is because even after the fire is out, leftover residue from burnt synthetic materials, as well as soot and smoke, will continue to settle throughout your property. These elements are highly damaging, and need to be addressed promptly if you are to avoid further corrosion and discoloration of seemingly unaffected areas and belongings. Damage from soot and other byproducts generally becomes permanent within 72 hours if not addressed.
Here at ServiceMaster Restoration by Complete, we fully repair all structural damage to your home or office, and restore affected areas by utilizing our powerful cleaning equipment and solutions. We also restore personal and professional belongings to the fullest extent possible. When you choose to take advantage of our fire damage restoration services, you can expect the following:
Rapid Response: We are available 24 hours a day, and can get a team of highly trained technicians to your property within 1 to 2 hours of your call.
Emergency Pre-Cleaning: We contain and pre-clean affected areas in order to minimize the spread of smoke, soot, other elements, and debris.
Wall and Ceiling Cleaning: Walls and ceilings are important structural elements that are difficult to clean after a fire. We address this difficulty with our proven methodologies and techniques.
General Cleaning: We clean and restore all affected areas of your home or office space. We utilize chemical cleaners that can remove tarnishing and soot damage from brass, tile, aluminum, chrome, porcelain, marble, carpeting, and upholstery.
Content Cleaning and Pack-Out: We clean and restore your personal belongings to the fullest extent possible. If this cannot be done on your property, we can do the restoration in our climate controlled facility.
Deodorization: The last thing you need to have is a lingering reminder of the fire. This is why we specifically deodorize all affected areas.
How to Be Proactive After a Fire
Open all doors and windows if it is over 60 degrees Fahrenheit outside.
Clean off porcelain, aluminum, chrome, and Formica surfaces affected by soot and other damaging byproducts.
Change your furnace's air filter.
Tape a damp cheesecloth over each return and supply register in order to capture soot from the air.
Toss out damaged food packages and containers.
Thoroughly clean your refrigerator and freezer if the power was out for a lengthy period of time.
Dry clean smoke-damaged clothing
What to Avoid After a Fire
Do not touch affected walls, upholstery, or woodwork.
Do not attempt to wash walls, carpeting, or upholstery on your own.
Do not use electrical appliances if they have not been professionally inspected.
Do not use ceiling fixtures if the ceiling is wet.
If your property has been damaged by a fire, then we encourage you to give us a call here at ServiceMaster Restoration by Complete right away. We are available 24 hours a day to take your call, and can respond to fire damage restoration inquiries within 1 to 2 hours. We are available at (732) 751-4004, and proudly service those in the Clifton, NJ, area.