When a fire engulfs your home or office, it uproots your whole life. When a home becomes exposed to a fire, it can put your family at risk, destroy your precious belongings, and continue to corrode your home even after the fire has been extinguished.
RestorationMaster
offers fire damage restoration services in Centennial, CO to restore your home after a fire. We take this job very seriously and will work tirelessly until your home is 100% restored. We offer the best personnel and equipment in the business to restore your home.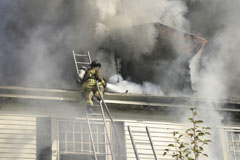 Even when the fire has been put out, your home is still at risk for further damage. Corrosive byproducts left from the fire may still cause discoloration and etching. Our RestorationMaster technicians will work to remove all damage and any byproducts that will cause further damage. Our cleaning products are much more efficient and effective than our competitors, leaving you with an untarnished home and restored items. We work tirelessly so that you can be back in your home in no time.
While you await the arrival of RestorationMaster technicians to restore fire damage in
your home, there are a couple of things that you can do to avoid further damage:
What to Do After a Fire
Air out your home as best as you can by opening all windows and doors.
Wipe down your furniture, tables, and other items as best as you can to prevent further damage.
If you notice that your furnace is using forced hot air, change the air filter immediately.
Discard all food containers.
Clean your refrigerator if the power has gone out.
Save all salvageable clothing for a restoration dry cleaner to restore.
What Not to Do After a Fire
Do not touch anything with your bare hands because the oils in your hand will penetrate the wood/drywall and cause permanent damage.
Attempting to wash soot damage from the walls will result in further damage.
Do not attempt to clean or restore carpeting or upholstery.
Do not use electrical appliances as this is unsafe.
If your ceiling is wet, do not use any ceiling fixtures.
Even though the fire has been extinguished and you have been put out of harm's way, that does not mean your home has been. RestorationMaster will remove all damage and prevent further damage to your home with our fire damage restoration services in Centennial, CO. Contact us immediately at (719) 373-6777 to respond to fire damage emergencies.