Your personal belongings and precious items really do make up who you are. Losing these items in a disaster can be devastating to any office or family. Different types of disasters can leave your items permanently damaged. If you want to salvage these items, you must contact
ServiceMaster Fire and Water Restoration
 immediately for our content cleaning and pack-out services in Centennial, CO. If you do not act immediately, what would have been temporarily damaged will become permanently damaged. Our technicians have been trained to properly and efficiently clean and restore your items with our content cleaning and pack-out services. If your home is dangerously unstable, we will bring your belongings to our facility for cleaning.
Content Cleaning and Restoration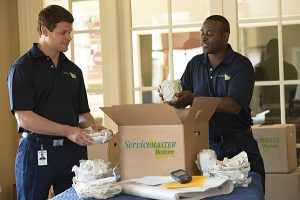 Natural disasters can happen quickly and unexpectedly. Your favorite things and precious memories can be seemingly destroyed in a matter of minutes. However, ServiceMaster Fire and Water Restoration can take items that look completely obliterated and return them to you looking as good as new. Our technicians will inspect your home, take inventory of your damaged items, and clean and restore those items! If your home is in an unstable condition, our servicemen can move your items into our facility for a more thorough content cleaning. We are here to help and assist you in every way that we can!
Pack-Out Services
When a disaster severely damages your home, it can leave your home in an unstable condition. If necessary, we are able to take your items into our off-site location to clean and store them until your home is safe again with our pack-out services. In order to make sure that none of your items are lost in transport, our technicians will make an extensive inventory list that has every item in storage listed.  We will deliver your items to your front door when you are ready for them! We are also able to contact your insurance company with a copy of the inventory list.
Your personal belongings really resemble parts of who you are and watching your precious items be seemingly destroyed is a very difficult thing to go through. That is why ServiceMaster Fire and Water Restoration is here to restore those items. We are available at any time on any day to help you with your emergency. Call us at (303) 800-3404 for emergency disaster restoration and content cleaning services in Centennial, CO.