Flooding, fires, mold growth, and major storms are among the most common disasters to cause damage to your home and each of these disasters causes pervasive damage that is bound to affect your personal belongings.  Many personal items including clothing and decorative items are delicate and the water, fire, smoke, or mold from these disasters can cause permanent damage to your content if it is not restored right away. 
ServiceMaster TEAM
provides content cleaning and pack-out services in Buckingham and Doylestown, PA to clean and restore all types of personal belongings affected by a disaster.  We have the capacity to fully clean and restore your content in your home but if the conditions do not allow, we can take your content to our facility for cleaning with our pack-out services.
Content Cleaning and Restoration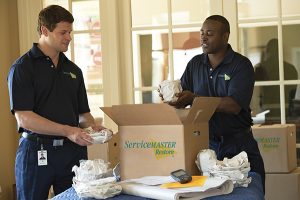 Your personal items are vulnerable to damage and odors from water, fire, smoke, and mold, and it is important to react quickly to this damage to salvage your content.  ServiceMaster TEAM provides content cleaning and restoration as part of our disaster restoration services.  We can thoroughly clean and restore all types of personal items using our advanced cleaning products and equipment and we can also help you file related claims with your insurance provider.  If your home is in good enough condition, we will do the content cleaning and restoration on-site but if the condition of your home is dangerous or unstable, we will pack-out your belongings and take them to our facility.
Pack-Out Services
Our pack-out services are an excellent option for getting your content cleaned as the damage to your home is restored.  As we pack up your items, we create a detailed inventory list that includes each item and provide you and your insurance company with a copy of the inventory so you can keep track of your content.  We have the cleaning products and equipment on hand at our facility to fully clean and restore your content and we can also keep your items stored in our secure, climate-controlled facility as you wait for the work to be completed on your home.  Your content will be delivered straight to your home once you are ready to take it back.
The damage from a natural disaster in your home is already a huge hassle and extensive damage to your personal belongings can add a new layer of frustration to the experience.  If your home in Buckingham or Doylestown, PA has sustained damage in a disaster, make sure you call ServiceMaster TEAM to provide content cleaning and pack-outs with our restoration services.  Our phone lines are open 24 hours a day at (215) 399-4866 to respond to your call in the Buckingham and Doylestown, PA area.
---
Related Content Cleaning and Pack-Out Services
Content Cleaning and Pack-Out Services in Willow Grove and Southampton, PA
Content Cleaning and Pack-Out Services in Levittown, PA
Content Cleaning and Pack-Out Services in Newtown and Yardley, PA