ServiceMaster Restoration by Complete
The presence of mold in your home or building can result in several problems as mold causes serious property damage, adverse health effects, and musty odors.  Mold often appears in environments in which it has a food source and a moisture source and it is a threat to spread to unaffected areas by dispersing its spores. 
ServiceMaster Restoration by Complete
provides mold remediation services to remove mold growth from homes and buildings in Brooklyn, NY.  We arrive quickly to help keep the mold growth contained and remove it using the best equipment and cleaning products available.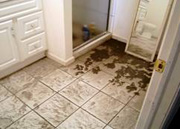 Moisture is the main trigger of mold growth which makes it most likely to appear if you have experienced water damage.  Mold often uses cellulose, which is a substance found in wood and drywall, as a food source and the damage it causes to these surfaces can become irreversible if given enough time.  Prolonged exposure to mold also greatly increases the risk of experiencing related health issues such as allergies and respiratory issues.  Our technicians can effectively remove mold using advanced equipment and cleaning methods including HEPA vacuuming and antimicrobial cleaning.  We can also provide testing and analysis through a nationally recognized testing facility.
Mold Restoration – What to Do
Call ServiceMaster Restoration by Complete to prevent the mold from spreading any further.
Wipe down any walls containing condensation.
Inspect the HVAC system of your home.
Allow for proper air circulation throughout your home by running the fan and A/C unit.
Repair any water leaks.
Mold Cleanup – What NOT to Do
Do not use any products to clean the mold yourself. Improper cleaning techniques will cause it to spread further, even causing negative health effects.
Do not paint or caulk over any moldy surfaces.
Do not touch the mold directly.
Do not put a fan directly in front of the mold.
The exact mold remediation process may differ by case but will generally include these basic steps:
Complete assessment of the damage including testing for hidden mold.
Report of our findings is given to your insurance company.
Isolation of the mold growth to protect unaffected areas.
Decide on the best mold remediation method based on our assessment and testing.
Complete removal of the mold and restoration of the resulting damage.
Mold can quickly spread and cause significant damage while increasing the risk of serious health effects.  If there is mold growing in your home or building in Brooklyn, NY, call ServiceMaster Restoration by Complete for mold remediation services.  You can reach us 24 hours a day at (347) 380-8388 and we'll arrive within 1-2 hours of your call to contain the mold contamination.