ServiceMaster Restoration by Complete
Hard surface flooring is found in many commercial and residential settings and there are several varieties for hard surface floors available suited for different purposes.  Hard surface flooring is an attractive option because they are relatively durable and easy to maintain and the different types of hard floors provide plenty of options.  However, hard surface flooring can sustain surface damage, stains, and general wear and tear from constant foot traffic and built up debris.  ServiceMaster Restoration by Complete provides hard surface floor cleaning services in Brooklyn, NY.  We can deep clean and revitalize hard floors in commercial and residential settings with our advanced cleaning equipment.
Residential Hard Surface Floor Cleaning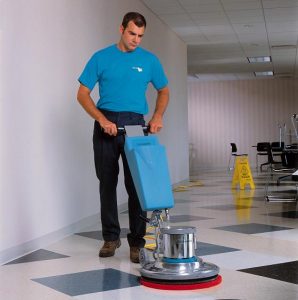 The most common hard surface flooring types found in homes include tile, laminate, hardwood, and vinyl among others.  Each of these floors can handle a lot of foot traffic, and tile and vinyl floors are moisture resistant and typically used in kitchens and bathrooms.  All hard surface flooring has tiny crevices in between the tiles and panels where dirt and debris from foot traffic can slowly build.  Debris in the crevices will eventually cause the floor to look dirty or faded and can also damage the floor by wearing out the finish and adhesives.  Our advanced cleaning equipment can remove debris from the cracks and crevices of any hard surface floor and restore its appearance.
You can expect the following from our hard surface floor cleaning services:
Clean floors with a renewed shine
Less wear and tear
Removal of minor surface damage such as scuff marks and light scratches
Long lasting finish
Commercial Hard Surface Floor Cleaning
Hard surfaces floors are found in many types of commercial settings from laminate or tile floors in an office building to impressive hardwood flooring in a lobby.  Keeping these hard surface floors in good condition is vital to maintaining a look of professionalism in your office or building.  However, flooring in commercial settings experiences high volume foot traffic and may become dirty or worn out quickly.  Many companies cannot clean their floors good enough and often enough to keep them in great condition.  ServiceMaster Restoration by Complete can effectively clean any type of hard surface floor in commercial settings with our state-of-the-art cleaning equipment and advanced methods.  Our cleaning methods are safe and effective for marble, vinyl, tile, ceramic, wood, and quarry flooring.
Commercial flooring requires consistent maintenance to effectively preserve its look and its life but many companies cannot do this on their own.  We offer regular commercial floor cleaning services to clean your floors on a consistent basis.
Our regular floor cleaning services have the following benefits:
Regular cleaning with safe and effective methods
Better slip resistance
Impressive shine and appearance
Longer life for the floors
Clean, shiny hard surface floors can enhance the look of a home or commercial space and it takes professional cleaning services to keep these floors from becoming faded, worn out, or damaged.  We can clean and restore any type of hard surface flooring in your home or business in Brooklyn, NY using the best cleaning products and methods of the industry.  Call us at (347) 380-8388 to schedule an appointment for our hard surface floor cleaning services.