ServiceMaster Restoration by Complete
Few things can bring down the look of a room or office like a dirty or worn out carpet.  A great carpet can enhance the look and comfort of a space but as the constant foot traffic causes the carpet to look discolored and dirty, the room or office will also start to look dirty.  It is important for the look and comfort of your home or office to make sure your carpet is thoroughly cleaned to remove embedded debris.  ServiceMaster Restoration by Complete provides professional carpet cleaning services for homes and businesses in Brooklyn, NY.  We will completely remove stains and debris from your carpet to help improve its look and guarantee a longer life.
Residential Carpet Cleaning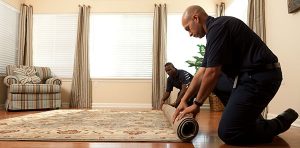 The carpet is easily one of the most used furnishing in your home because you walk on it every day.  Regular foot traffic pushes dirt and debris deep into the carpet which can lead to stains, discoloration, and general wear and tear.  If the debris is allowed to build up, it will eventually cause deterioration of the fibers.  Having your carpet professionally cleaned at least once per year can help prevent debris build up that leads to fading and deterioration.
Our technicians use the hot water extraction method to safely deep clean all types of carpeting found in homes and restore its original color.  The hot water extraction method essentially steam cleans carpets with a solution of hot water and mild detergent.  The detergent is applied directly to the carpet fibers to loosen the soil with a cleaning wand and this same wand extracts the solution and the loosened soil out of the carpet and into a truck-mounted holding tank.  The mild, hot water solution dries within just 24 hours and does not leave residue like chemical cleaners and shampoos.
Our carpet cleaning services consist of the following steps:
Complete inspection of the carpet
Pre-treatment for spots and stains
Pre-cleaning of high traffic areas
Cleaning of all carpets with hot water extraction method
Post-treatment of stubborn stains
Fiber grooming for better appearance and faster drying
Protection of the carpet with pads under all furniture legs
Final inspection for your approval
Commercial Carpet Cleaning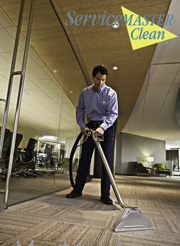 Just like in your home, a dirty carpet in your office can diminish the appearance of the space and even give a bad impression to potential customers, clients, and employees.  Keeping the carpet in your workspace clean will provide a healthier and more comfortable working environment and improve the look of the space to leave a better impression on clients and visitors.  At ServiceMaster Restoration by Complete, we can clean all types of commercial carpeting with the hot water extraction method to remove embedded debris and stains for an improved appearance.  We also offer continued carpet care for businesses to keep your carpet maintained with regular cleaning services.
These services can produce the following benefits:
Longer carpet life
Consistent color and texture
Protection from matting, staining, and wear and tear
Complete removal of dirt and debris from the carpet
Our professional carpet cleaning service can help you preserve the life of your carpet while keeping your home or office looking its best.  Contact ServiceMaster Restoration by Complete if your home or business in Brooklyn, NY could benefit from professional carpet cleaning.  You can reach us any time at (347) 380-8388 to schedule an appointment or ask about our continued carpet care services.