Carpeting is a major investment in your home and makes an equally large impact on its appearance. New carpet livens up a room even if nothing else changes, while a dirty carpet makes even the most tasteful furniture seem shabby. Daily foot traffic wears down the fibers and grinds dirt deep down to the backing. Anything that's on the bottom of your shoes ends up on the carpet, whether it's rainwater, gum, or grass. That's why it's important to have the professionals at
ServiceMaster NCR
clean your carpets in Bethesda, MD on a regular basis. Think of it as a facial for your carpet!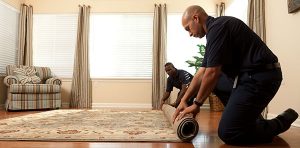 The frequency of carpet cleaning depends on your family, your lifestyle, and how much you entertain in your home. A family with young children, or a couple with dogs will need more frequent cleanings. A family who regularly hosts family gatherings will want carpets cleaned before special occasions. A vacation home may only need to have the carpets cleaned before the family arrives for the summer, or before a special event, like a wedding.
Commercially available household carpet products don't clean as deeply as the ones used by the professionals at ServiceMaster NCR. We have the equipment and experience to get the job done without causing further damage. We can remove stains from berber, wool and synthetic fiber carpets and restore them to their former glory. We'll remove the furniture, pre-treat stains, clean and dry your carpet and replace the furniture. Then we'll work with you to develop a maintenance schedule that will keep them looking their best.
Call ServiceMaster NCR at (703) 596-3171 to schedule a "spa day" for your carpets in Bethesda, MD today. Schedule the heavy cleaning now, so you'll only need a light touchup for the holidays!