Water Damage Cleanup
The once in a decade flood happens without warning. Pipe bursts, leaking water heaters and other plumbing mishaps can occur when least expected. You depend on fast, competent help that can stop the damage as well as dry and restore your home. The experts at ServiceMaster NCR understand that experiencing water and flood damage can be a major disturbance to any household or business.
With more than 30 years of experience, we are the leading specialists on water damage cleanup. At ServiceMaster NCR, we know that without prompt and efficient action, water damage can cause substantial harm. That's why we are on call 24 hours a day, 7 days a week, 365 days a year in Arlington VA 22204 and all of metro DC. We are on-site within 1 to 3 hours to begin any necessary emergency drying. We use the most sophisticated and advanced products, procedures, and equipment to ensure your home is restored quickly and any mold growth is prevented. Water damage cleanup includes water extraction and drying, repair or replacement of structural elements such as rotted wood or ruined drywall, and cleaning or protection of personal contents and decorative items.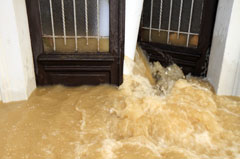 No house, office or business is immune to water damage and Service Master NCR tackles every job with the same efficacy and proficiency all water damage cleanup requires for big or small jobs.
The ServiceMaster NCR water damage cleanup process includes:
Emergency Response
– Job Site Inspection and Assessment
. Within 1-3 hours of receiving your phone call, a specialist will be on site to assess the severity of the water damage.
. All floors, walls, pipes, basements, attics and requested areas will be thoroughly examined for any signs of water damage.
– Water Removal and Drying
. Extraction of excess moisture will be done to prevent bacterial and mold growth and reduce the chance of structural harm. Extraction machines such as fans, dehumidifiers, and natural ventilation will be used in the process of water damage restoration.
. All water damage cleanup services provided by ServiceMaster NCR will include daily inspections to make sure each job is progressing efficiently.
– Reinstallation and Cleaning
. Our trained technicians will explain the recovery process and provide a comprehensive water recovery guide outlining the ServiceMaster NRC Restore steps and the homeowner's responsibilities.
If you are a victim of water damage in Arlington VA 22204, don't wait and call ServiceMaster NRC now at (703) 596-3171. Our expert team of technicians will answer your call 24 hours around the clock and provide the efficient water damage cleanup your building deserves.  ServiceMaster NRC can always be reached at (703) 596-3171.