Se habla Español
Sometimes after your home or building has been restored following a disaster, you may discover another effect of the disaster that needs to be addressed, odor.  Residual odors may be left behind from fire, smoke, mold, flooding, pets, and many other sources and they are very difficult to get rid of without professional assistance.  ServiceMaster All Care Restoration provides odor removal services to completely remove residual odors from homes and businesses in Scottsdale, AZ.  We can effectively remove strong odors using advanced deodorization methods such as absorption technology, Nano carbon technology, ozone technology, and hydroxyl technology.
Our odor removal services can remove bad smells from the following sources:
Smoke and Fire
Dead Animals
Pets
Undetected Death Scenes
Deodorization Process
The deodorization process we use includes multiple steps to remove the odor and make sure it does not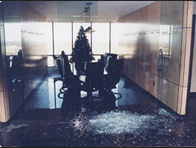 return.  These steps include:
Removal of the source
Treatment of affected materials and air space
Air washing
Sealing porous surfaces
Unpleasant odors in a home or building generally come from these major sources and our technicians are trained to treat odors from each one.
Fire and Smoke: We have the right cleaning products to remove lingering odors from smoke and fire.
Flooding and Mold: Water damage from flooding and mold growth can sometimes leave a musty odor that we can remove with our specialized equipment.
Biological Based Odors: Odors from pet messes, dead animals, and other biological sources tend to be foul and unpleasant but we can remove them from your home or office.
Foul odors are extremely unpleasant to live with and can be very difficult to eliminate from your home or building but our technicians can remove all odor types with our advanced equipment.  Contact ServiceMaster All Care Restoration for odor removal services in Scottsdale, AZ.  We can be reached 24 hours a day at 480-717-3030.
---
January 13, 2020
Renate and James Llewellyn
Phoenix, AZ
January 9, 2020
The team was out here very quickly to sop up the mess and start dehumidifying everything. They were friendly and answered as many questions as they could. The office called to coordinate appointments and then to let me know when the team would be arriving (a 2 hour window). The team would call or text to let me know when they would be arriving in the next 1/2 hour.
See All Reviews