Natural disasters can happen at any time, and it's impossible to completely prepare for every type of damage. Nobody can predict how much damage will occur; fires, floods, and storms have the ability to cause little damage or total devastation. No matter what kind of damage occurs to your home or business from a natural disaster, ServiceMaster All Care Restoration can rebuild it with our construction services in Scottsdale, AZ. We can stabilize the structure to prevent collapse and work with you to create and manage the total reconstruction project.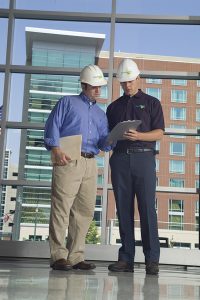 Large-scale damage caused by a disaster is emotionally and mentally taxing and is a major disruption in your life. Your home or business may be unusable for days or weeks and you may have to find alternate accommodations during reconstruction. Finding reputable contractors for so many different projects is difficult, let alone managing them and the project. The experts at ServiceMaster All Care Restoration will develop a comprehensive reconstruction plan that covers everything, and we manage the project so you can manage other things. We have carpenters, plumbers, and other subcontractors on staff, so we don't have to hire out for anything.
Our construction services include:
Architectural reports, and blueprints;
Consultation and design;
General contracting;
Obtaining all necessary licenses and permits;
Plumbing and electrical work;
Remodeling;
Roof repair/replacement;
Carpentry, framework, and custom woodwork;
Painting/staining;
Carpet/flooring;
Wallpaper;
Custom window treatments.
We take care of all necessary paperwork and manage the project because your life was busy before the disaster happened. The professionals at ServiceMaster All Care Restoration know how to obtain permits and inspections to avoid lengthy delays, so you can get back into your home or commercial property sooner. We're available 24 hours a day, 7 days a week and our staff is fluent in Spanish to better serve our clients in Scottsdale, AZ, and the surrounding areas of Maricopa County.
---
January 13, 2020
Renate and James Llewellyn
Phoenix, AZ
January 9, 2020
The team was out here very quickly to sop up the mess and start dehumidifying everything. They were friendly and answered as many questions as they could. The office called to coordinate appointments and then to let me know when the team would be arriving (a 2 hour window). The team would call or text to let me know when they would be arriving in the next 1/2 hour.
See All Reviews