The carpet in your home or business makes a huge impression on visitors and takes a beating on a daily basis, yet most of us don't give it a second thought. Dirt and debris are ground deep down by shoes, and rub up against fibers, fraying and weakening them. Even frequent vacuuming can't remove all the dirt and grit. Liquids are spilled frequently. As the debris accumulates, the carpet looks discolored and dirty. Odors from smoke, pets, pollution, and other sources build up over time and sink into fibers and padding. The smells can't be covered up and quickly become distractions as soon as someone walks in. ServiceMaster All Care Restoration provides comprehensive carpet cleaning for residential and commercial clients in Scottsdale, AZ and the surrounding areas of Maricopa County. We use the most effective techniques and equipment in the industry to deep clean and restore carpets and remove tough odors using hot water extraction.
Residential Carpet Cleaning
The carpet in your home suffers more damage than any piece of furniture due to foot traffic. Everyone remembers Mom yelling, "wipe your feet"; she was trying to keep dirt out of the carpet! Every bit of dirt, sand, or other debris becomes pressed further down over time and beyond the reach of commercial vacuum cleaners. Household cleaners can only remove stains from spills for so long; eventually the fibers begin to turn dingy. The frequency of carpet cleaning depends on your family and its individual needs, but having your carpets professionally cleaned every 6-12 months will remove the debris that ages them prematurely and keep them looking and smelling better longer.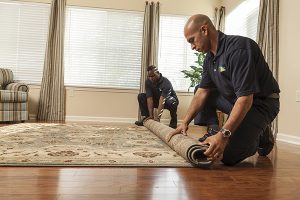 The cleaning professionals at ServiceMaster All Care Restoration use hot water extraction to effectively remove deeply embedded dirt from the carpets in your home or business. We treat the carpets with a solution of hot water and a strong, but gentle detergent that loosens the dirt that's deep down in the fibers. We then extract the solution, dirt, and debris back out with the same equipment. The dirty solution is collected into a holding tank in our truck that's emptied off site. This cleaning method leaves carpets dry and ready to use in less than 24 hours, with no residue.
ServiceMaster All Care Restoration's Full-Service Carpet Cleaning includes:
Precleaning high traffic areas;
Pretreating spots and stains;
Complete cleaning using the industry's best hot water extraction equipment;
Post cleaning treatment of stains;
Grooming fibers to help them dry faster and look better;
Inspecting the carpet with you to ensure your satisfaction.
Commercial Carpet Cleaning
Carpets in a commercial setting see more foot traffic than ones in homes, so they get more dirt and stains. Dirty, smelly carpets give people a poor overall impression of your company, so it's important to keep them looking their best. A carpet that's dirty, stained, or in bad shape makes customers wonder if you pay attention to details in your work, or if you can afford cleaning. A carpet with a bad smell is unpleasant for everyone, especially staff members.
The hot water extraction method we use in homes works just as well in commercial settings. Regularly scheduled cleanings will ensure that your carpets always look their best and your customers always have a good impression of your company. Protecting your investment with regular cleanings by ServiceMaster All Care Restoration keeps dirt and debris from wearing down fibers, so carpets last longer, and colors and patterns stay vibrant. They also prevent stains and matting. We can work with you to develop a schedule that works best for you.
Call ServiceMaster All Care Restoration for comprehensive carpet cleaning for your home or business in Scottsdale, AZ and Maricopa County. We'll help you protect your investment in your carpet, as well as your reputation and your pride in your property. We're available 24 hours a day, 7 days a week and our staff is fluent in Spanish to better serve our clients.
---
January 13, 2020
Renate and James Llewellyn
Phoenix, AZ
January 9, 2020
The team was out here very quickly to sop up the mess and start dehumidifying everything. They were friendly and answered as many questions as they could. The office called to coordinate appointments and then to let me know when the team would be arriving (a 2 hour window). The team would call or text to let me know when they would be arriving in the next 1/2 hour.
See All Reviews