4 Reasons Why Smoke Damage Restoration Should be Handled by Professionals
The blazing fire is extinguished, and the property's occupants are safe. Yet, the nightmarish ordeal is far from over. What lingers are the remnants of the fire—smoke. With its ability to cause serious health problems to the property's inhabitants and harsh consequences to the physical building, smoke damage restoration must be tackled by professionals.
Here are 4 reasons why smoke damage restoration should be handled by professionals.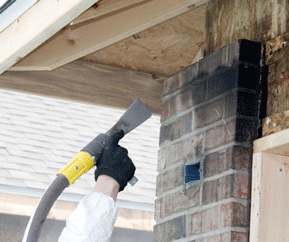 1. Smoke damage threatens health concerns and consequences
Smoke consists of innumerable fine particles and gases that develop when organic compounds burn. Given the minute size of these particles, they can be easily inhaled and become lodged in a person's lungs. The health consequences of smoke inhalation are many.
When people breathe in high concentrations of smoke, they can experience significant discomfort, like burning eyes, difficulty breathing and wheezing. Symptoms worsen in people with existing lung disease. Those with heart disease could feel chest pain, fatigue or heart palpitations.
Since indoor air quality diminishes after a fire, people with lung disease may have a more difficult time breathing deeply. Smoke's fine particles also adversely affects those suffering from asthma. Limiting attendance in the area affected by fire is recommended until the smoke damage is professionally cleaned.
Venturing into a property affected by smoke is risky, since smoke particles are invisible; homeowners simply do not know what rooms to avoid. Breathing in smoke particles spurs an influx of respiratory issues, until professional restorers equipped with safety gear clean up the smoky residues.
2. Smoke particles cause hidden damage
Acidic compounds are rampant in smoke particles. The toxic substances in particles corrode various metals and are strong enough to even etch glass. Since the smoke particles are small, with some being seemingly invisible, they can travel to distant parts of the home untouched by the fire.
Smoke particles can meander into the home's ductwork; from the ducts, the particles have access to every room in the home—even in areas where the fire did not burn. Smoke is likely to settle in cooler areas of the home, like inside the walls or behind the window curtains.
The insidiousness of smoke makes the particles a menace to homeowners. Clearly, smoke is a danger to human and pet health. Secondly, smoke is pervasive, and can reach every nook and cranny of the home. Home and business owners are advised to consult professional fire damage restoration contractors when smoke damage occurs.
3. Smoke damage spreads quickly
Smoke operates on a rapid timeline. Simply put, smoke damage spreads fast. Within a few minutes, smoke transforms into soot and causes permanent discoloration to whatever porous materials it touches. Marble, alabaster, and plastic are fair game for smoke damage.
Given a few hours, smoke particles will cause tremendous damage. Metals, like appliances and electronics, tarnish. Unsightly yellowing of painted walls and appliances occurs. Any wooden furniture must be refinished. Flooring, too, will have to be either refinished or replaced.
In the unfortunate circumstance that smoke damage is left unaddressed over the course of a few days, other significant ruin takes place. The carpet's synthetic fibers absorb unpleasant smoky odors, making removal of the smell impossible. Silver items undergo irreversible corrosion.
Smoke penetrates deeply and quickly, which requires the immediate response of smoke damage restoration crews.  
4. Professional cleaning products and deodorizers needed
Homeowners attempting to dislodge smoke odors from a property engage in a futile task. Smoke odors are extremely challenging to successfully remove. Pores in wood open up when the heat of fire strikes. When the environment cools, these pores close—but not before trapping noxious toxins and odors.
Isolation of affected areas
Protecting the property's occupants from smoke particles is the priority for professional smoke damage restoration professionals. Isolation barriers are installed to keep smoke in affected areas from floating into occupied ones. Restorers wear personal protection gear, like face masks, respirators and nitrile gloves.
Professional cleaning products
Once equipped with necessary safety attire, smoke damage restoration experts begin the laborious physical removal of smoke particles. Whether the smoke results from an oxygen-rich fire or a blaze lacking abundant oxygen determines what types of cleaning materials to use.
Technicians use alkaline detergents specifically formulated to clean smoke. Specialized HEPA equipment featuring micro-filters are brought in to clean carpeting and upholstery. As much as a quarter inch of char and soot can be eliminated from structural elements when dry-ice blasters and soda are used.
Construction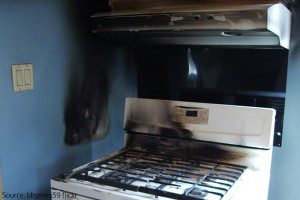 Drywall that has zero smoke contamination behind it can be saved. Certain items affected by even the least bit of smoke should be replaced; these include padding beneath laminate flooring and the insulation located in the attic or in the walls.
Professional deodorizers
The floating smoke particles become deeply embedded within carpeting, walls, wooden flooring and furniture, making it challenging for even experts to rid the property of offensive smoke smells. Without professional treatment, the unpleasant smoky odors can endure for several years.
Advanced technologies rid smoke damaged areas of foul smells. Ozone generators are commonly used by smoke damage restoration professionals to neutralize odors. As mentioned earlier, the pores in wood open up in a fire. Thermal foggers do the same, but effectively eliminate the odors trapped inside.
Professional smoke damage restoration crews utilize cutting-edge technology, proven techniques and insider knowledge to rid properties of noticeable and hidden smoke damage. The average home or business owner is unlikely to have the equipment or know-how to eradicate all the damage.
Professional Fire Damage Restoration
Smoke damage cleanup should be handled by experts to fully dislodge and eliminate all smoke residues, prevent the spread of ruin, and remove lingering smoke odors. IICRC-certified technicians quickly arrive onsite to begin the smoke damage restoration process.
Smoke and fire damage restoration services are available when smoke results from chemical or combustible material fires, restaurant or home grease kitchen fires and any electrical fires that break out in commercial properties or homes. These dependable technicians also rebuild or replace smoke-damaged structural elements, like siding and doors.