Smoke damage should be cleaned by experts: here's why
We hope that you never experience the disruption, pain and expense of having a fire destroy even a small part of your home.  But if you do, we want to emphasize the importance of using professionals to clean the resulting smoke damage. When homeowners experience a small fire, they often think that the smoke damage is no big deal compared to the damage and clean up of the home's contents or structure.  However, it is a big deal and can permanently affect a home's structure and resale value as well as your family's health.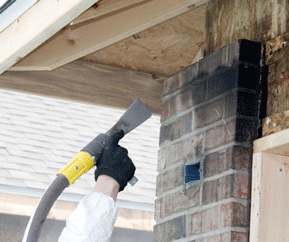 Lingering ash and smoke can cause extensive corrosion, discoloration, etching and powerful odors. Smoke damage clean-up professionals can stop this before it becomes a major problem, as long as they are contacted soon enough. The first thing that ash does to the home is discolor most surfaces.  Plastic items, or items with plastic parts will start to discolor within minutes. Within several hours, fiberglass and finishes on appliances will begin to yellow and metals may tarnish. After a few days, ash will cause walls, clothing and upholstery to discolor permanently. Anything made of wood and vinyl will need to be refinished or replaced, and metal will start corroding. Glass, such as the glass in your windows, may also become permanently etched. Odors caused by the disaster may still be present and intense enough to be distracting. Ash is acidic, so the longer you go without properly removing it, the more destructive it will become. Soot, the residue left by things that are burnt in a fire, can enter your respiratory system and potentially cause health issues.
When a trained, certified, professional company arrives at your home, the team will identify all affected materials and the source of any odors. Because ash residue is easily disturbed and can spread through your home with the slightest movement, the experts need to be very careful to remove any built-up ash residue that is coating surfaces. Trained professionals have the know-how and equipment to do this; most homeowners do not. (Ash builds up in layers and may eventually form into a lacquer-like consistency if left too long.) Once this is done, the restoration experts will locate the source of odors and treat materials with specialized detergents that are formulated for neutralizing smoke odors.
Cleaning up smoke damage is detailed and specialized, so hiring a trusted professional is extremely important to your home's future and resale value as well as your family's health.  If you are in the Atlanta, Georgia area, contact the experts at ServiceMaster Cleaning & Restoration at 770-679-2299.