Why You Shouldn't Enter Your Home After a Fire
When a fire breaks out in your home, it's especially concerning. Not only will the flames engulf anything that gets in their way, but they cause a significant amount of damage in a quick manner. The fire will also produce a lot of smoke, which will cause even more damage of its own. It's for these reasons that fires are considered one of the most devastating disasters that can harm your home.
If you experience a fire that hasn't completely engulfed your property, then you'll likely feel relieved once it is out. Your property and belongings might have suffered smoke damage, but they haven't been completely destroyed.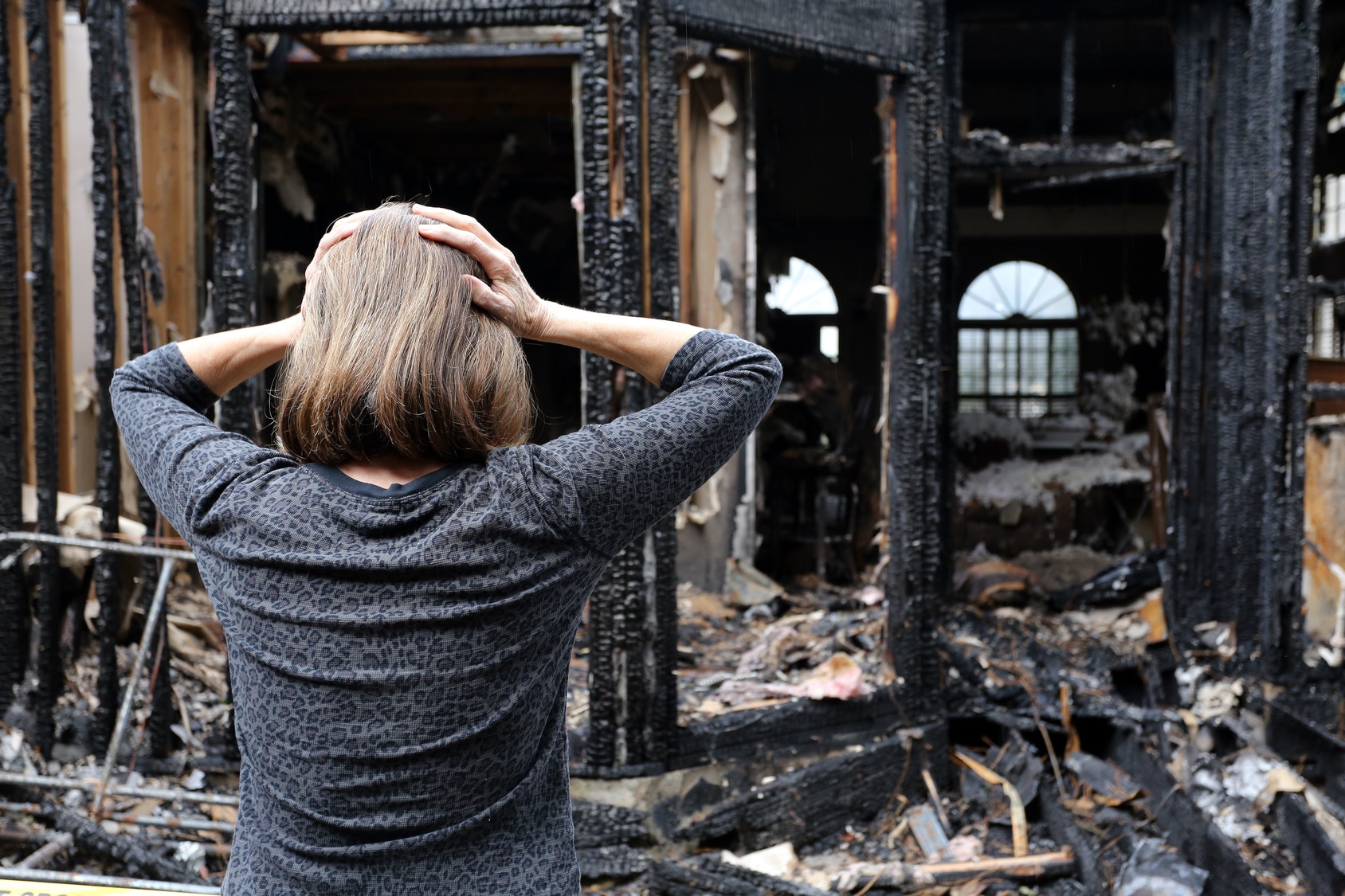 After the fire has been extinguished, you may want to go back into your home to check out the damage. You may even want to start gathering some of the belongings that are still there. However, it is important that you refrain from entering your home until a trained professional has deemed it safe to do so.  There are numerous reasons why you are advised against entering your home immediately after a fire.
Continue reading to learn more about the damage that fires can cause and why you should refrain from entering your home after a fire.
Harmful Particles and Gases
When your home is the site of a fire, the flames are the obvious source of damage. However, the secondary damage that can be caused by smoke, soot, and other corrosive byproducts should not be ignored. This is because the secondary damage caused by corrosive byproducts is often more harmful and widespread than the damage caused by the flames themselves. The damage occurs because the smoke and soot from a fire continue to linger and settle into your property after the fire has been extinguished.
From cleaning products to plastics to electronics, a lot of different products and items become burned in a fire. The burning of such items can produce many toxic chemicals that are found in the smoke. Among the common toxins that can be found in smoke are arsenic, chromium, dioxins, formaldehyde, and hydrochloric acid. Dioxins, in particular, can cause cancer and other health problems.
If you enter your home before it is deemed safe, then you risk exposing yourself to these hazardous substances. You will already have to deal with a fire-damaged home, and you don't want to add on to your concerns by complicating your health. Knowing this, don't go into your home and expose yourself to such toxins.
Various Hazards and Debris
While you know that a fire's flames can quickly destroy many building materials and personal belongings, you won't know what various hazards and debris it has left behind. Your home may be littered with pieces of broken glass, metal, plastic, and wood, or your home may have exposed electrical wiring.
If you don't have the necessary protective gear and are not prepared for such hazards, you can hurt yourself. That being said, refrain from going back into your home so that you don't cause an injury from the various hazards and debris that are present.
Water Damage and Mold
One of the things that many people don't realize is a possible result of a fire is water damage. The amount of water needed to extinguish a fire's flames can easily cause your property to suffer water damage in addition to the fire damage. The water used may leave the floor wet and slippery, posing as a hazard to anyone who makes their way into your home. If walls are left saturated, then it can also cause electric shocks.
Avoid the potential for injury by staying away from your home and not re-entering it until a professional has approved it.
Unstable Structure
The amount of damage that a fire causes your home can leave it in an unstable condition, and this can be the case even if your home's structure looks like it will hold up. You don't want to go into any property that has an unstable structure, because the structure could become damaged further, potentially even collapsing. If this were to happen, you could be seriously injured. You don't want to get hurt, nor do you want to worsen
Getting Fire Damage Cleanup Help for Your Home
If a fire breaks out in your home, then your first priority should be to evacuate your home and make sure everyone is safe. Then contact your local fire department to have the fire extinguished. Once the flames are out, stay out of your home until a professional has deemed it safe for you to return. In the meantime, turn your attention to the cleanup by calling a professional for fire damage restoration services .
With professional fire damage restoration services, professional technicians will tend to the fire and smoke damage your home has suffered. They will stabilize your home to prevent it from suffering further damage, clean materials affected by smoke and soot damage, and repair/restore building materials harmed in the fire. These professionals will also let you know when it is safe to return to your home.