Does Smoke Damage Computers?
Especially when you don't have a backup and your computer contains important data or even precious memories, finding it covered in smoke residue can be stressful, if not devastating. However, depending on the degree of damage, it may still be salvageable. As long as it is inspected and treated right away, not only can you save yourself money in replacement costs but you can recover important files that might have been lost forever. But simply turning it on is not only harmful to the computer, it can be dangerous to you as it can start a new fire from the inside. Instead, call a professional fire damage restoration service to assess the damage and determine if it able to be salvaged.
Whenever any materials within your building have been severely damaged, they must be inspected and cleaned by professionals. Contact a local restoration company for restoring building structure and personal belongings. This is because the technicians arrive right away to start the cleanup process, keeping you updated of its progress from start to finish. To learn more about the effects of fire damage and what happens during the cleaning process, read more below.
The Effects of Smoke Damage to Computers
Especially when your computer has a high monetary value or contains many important files, it can be traumatic to find it severely damaged from smoke. However, any attempts to turn it on before inspection should be avoided as it can cause additional damage to the interior. Below you can find what exactly happens when your computer sustains fire and/or smoke damage.
Even if the fire does not touch the computer, the smoke is able to seep into the circuit boards and electrical components inside. This can cause not only corrosion but short circuiting, creating a new risk for an internal fire.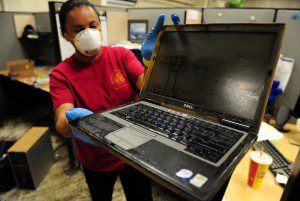 If extreme heat, such as the flames, has come into contact with the metal or plastics, it can release dangerous chemicals into the air. Finally, if it is powered on before inspection, the electronic components will become reheated, dispersing toxic fumes into breathing air.
It is always best to have a fire restoration professional evaluate the computer, even if you have inspected the damage yourself. This is because the damage can be hidden, posing a dangerous risk to your health if powered on.
What Happens During Smoke Damage Inspection and Treatment
After sorting through your belongings, allow the professionals to further inspect each item. They will be able to assess the damage, determine if it is salvageable, and start the repair process right away. But during the cleaning process, be sure to keep the following in mind:
Record the date that the computer was given to the fire damage cleanup specialists for your records.
Upon inspection, the technicians will open the computer and examine the interior for fire or smoke damage. This can include burnt circuit boards, corrosion, and other smoke damaged surfaces. Often times, they will only need to be cleaned thoroughly in order to return them to working condition.
In other cases, only specific parts will need to be replaced. The technician will identify each component, inform you of those that are unsalvageable, and order replacements. You can even include these items on your insurance claim if they are considered unsafe to use.
After the computer is fully inspected and replacements are installed, they will turn it on and ensure that it is safe to use before returning it back to you. As their job is to ensure your safety, it is also to provide you with some peace of mind by restoring as many personal belongings as possible.
Finding Smoke Damage Restoration Professionals
When searching for a fire damage restoration professional, it is important to find one that is licensed, experienced, and most importantly, reliable. After arrival, the fire damage repair professionals will then inspect all areas of your property, determine which items require priority for restoration, and begin the cleanup process right away. They are also available 24/7 so you don't have to worry about waiting for business hours to save your damaged belongings. Call them at any time of day to provide some peace of mind during an emergency situation.