Water Leak Detectors: Find Water Damage Before it Spreads
Water damage is one of the most common types of damage that can occur within a home or building. This is because it can be derived from numerous sources including: burst pipes, water leaks, blown water heaters, sewer backups and more. Thankfully, if you notice it before it spreads, it won't require too much effort to conduct water damage restoration. However, if you are away from your home or building for an extended period of time, the water damage restoration process can cost a fortune in repairs.
Solution: Water Leak Detectors
However, there is a cost-effective solution to give you some peace of mind while you're away from home: a water leak detector. There are many different types of these sensors. The most basic function just like a smoke detector. They will detect the leak and sound the alarm to alert you immediately.
Advanced Moisture Detectors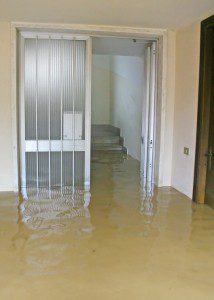 However, companies have recently released improved, more innovated versions that can connect to mobile devices. Although they are more expensive, the new detectors are able to send you text messages, should a problem ever occur. They are also able to connect to the home's water supply, depending on the capabilities of each water leak detector.
In addition, there are entire systems in which come with individual detectors that you can place anywhere there is a high risk for water damage. These places can include near: sump pumps, windows, doorways, cracks in the walls, and water pipes.
Advanced water leak systems allow you to set minimum moisture level alerts in which the detector will notify you when it has reached a specific level. An additional feature is monitoring the temperature in which case it will alert you, should it drop substantially.
Water Leak Detectors in Smart Home Systems
If your home was built recently, or contains a smart home system, a smart leak detector may already be integrated into the system. Within these systems may contain a carbon monoxide detector, a thermostat, motion sensors, security alarms, and more. But if you are not sure if you have a built-in water leak detector, it is best to check the manual or contact your smart home system provider to find out. Remember, it could save you thousands in the future.
Although the independent water leak detectors are simple to install, the ones that are built in to the home may not be so easy. In this case, a specialist may be required to install the gadget. But whether you have a separate detector or one that is built in to the smart system, it is always best to frequently check the batteries and power sources, as they do not alert you when they lose power.
Dealing with Water Damage
In the case you or a loved one ever experiences water damage in your home, it is always best to call a professional water damage restoration service. They have the tools and experience necessary to properly restore water damage of all sizes.
However, it is always best to install a water leak detector after the job is done to ensure the same problem does not happen again in the future. For more information about water and mold damage restoration, contact your local ServiceMaster using our local area provider directory.