Useful Tips to Clean That Dirty Fireplace
A woodburning fireplace is more than just a decorative feature in your home. It can also help control winter utility bills by supplementing your central heating system. Routine fireplace maintenance is important to prevent fires and to keep your fireplace working efficiently.
5 Tips for Fireplace Maintenance
Wait at least 12 hours after extinguishing your fire before you clean the fireplace. This gives the ashes time to cool.
Sprinkle damp grounds from this morning's coffee over the ashes to cut down on dust.
Sweep or vacuum the floor of your fireplace weekly to remove accumulated ashes.
Use hearth cleaner to clean the bricks around your fireplace. If you have glass fireplace doors, hearth cleaner will keep them clean too.
Have your fireplace and chimney inspected annually by a certified chimney sweep.
What to Expect
When you hire an expert chimney sweep to inspect and clean your fireplace, they will arrive with an assortment of cleaning supplies, tarps, and brushes designed to efficiently remove soot, ash, and creosote from your fireplace. They should also perform an inspection of your chimney to verify that it is not clogged with soot or debris.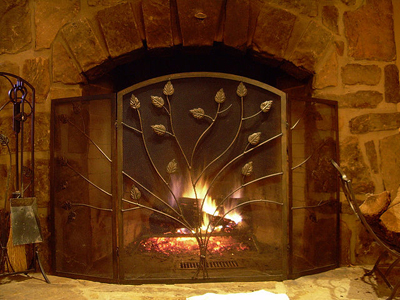 If your chimney is blocked, you may notice that your fireplace pushes smoke into the room rather than drawing it up and out of the house. In this case, you may also need to hire a smoke damage restoration crew.
A smoke damage restoration service will clean soot stains from walls and floors, and will remove smoke odors. They will advise you whether cleaning smoke damage from your carpets, draperies, and upholstery is possible, or if replacement is your only option.
Cost
The average cost of an annual chimney inspection and cleaning falls between $400-$600. Smoke damage cleanup is significantly more expensive, but the improvement in your home and quality of life may justify the investment.
Choosing a Provider
As with any service provider, you should interview several companies before choosing the one whose service and costs best fit your needs. Ask if your chimney sweep holds Chimney Safety Institute of America safety certification.