Understanding Flood Zones and Preparing for a Flood
While flooding can happen anywhere within the United States, some areas are more prone to flooding than others.  Coastal regions and lowlands near large bodies of water have the highest risk and it is important for people in these areas to understand the risk so they can protect their property.  The Federal Emergency Management Agency (FEMA) has mapped out the entire U.S. into flood zones based on the potential for flooding in each area.  The type of flood zone that you live in not only provides insight on your risk of flooding, but also determines flood insurance rates as well as the best ways to design and build outside structures like decks and pools.  You must be familiar with your flood zone to understand your risk of flooding and determine if you need flood insurance.
Flood Zone Maps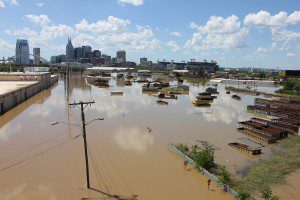 Flood zones are geographical zones that are defined by FEMA based on flood risk and the type of flooding common to each region.  These flood zones are the result of statistical data compiled by FEMA that include rainfall statistics, topographic surveys, storm tides, river flow, and hydrologic and hydraulic analyses.  With this information, FEMA has divided the entire U.S. into 4 main types of flood zones and created detailed flood zone maps that you can view on the FEMA Map Service Center website.  These flood zones were created to help guide flood management plans, flood insurance coverage and rates, and other decisions like buying property and choosing a flood insurance plan.
The following are the four main types of flood zones according to FEMA:
Special Flood Hazard Areas: These flood zones cover the areas of the U.S. with the highest flood risk. Areas under this category are broken down into two types of zones; Zone V and Zone A.  Zone V refers to properties on an oceanfront that are the first to be affected by a tidal wave or tropical storm.  Zone A refers to lowland areas near a body of water like a river or lake that has the potential to flood.  Flood insurance is required for homes and businesses in Zone V and Zone A Special Hazard Flood Areas.
Moderate Hazard Flood Areas: These areas have some potential for flooding and are referred to as Zone B.
Minimal Flood Hazard Areas: These areas are divided into Zone C or Zone X and have a very low risk of flooding. Homes and businesses in these areas are not required to purchase flood insurance.
D Zones: These areas have not yet been clearly defined by FEMA.
National Flood Insurance Program
Typical homeowner's insurance policies do not cover flood damage, which means you have to purchase a separate flood insurance policy.  Flood insurance is available through the National Flood Insurance Program for homes and businesses.  The goal of this program is to provide affordable flood insurance for homeowners and property owners in high-risk areas and to help emphasize the importance of communities enforcing floodplain management regulations from FEMA.  You can contact FEMA to find a provider of flood insurance in your area.
Flood Preparation Tips
If you are expecting flooding in your area, the following tips from FEMA can help you prepare to prevent property damage:
Pay attention to weather updates on the news.
Get ready to move to higher ground if your home is directly threatened.
Put an emergency preparedness kit together with a flashlight, batteries, and first aid supplies so that you can grab it quickly if you need to evacuate.
Move outdoor items like furniture inside and put your most valuable items on the upper floors of your home.
Disconnect your electrical appliances and stay away from electronics if there is water in your home.
Be ready to turn off the gas and electricity in your home if you are forced to evacuate.
Flooding causes more deaths than any other weather-related disaster in the U.S. and it has the potential to cause devastating property damage.  It is very important for you to know what flood zone you are living in so you can properly assess your flood risk and purchase flood insurance if you need it.  If you experience any flood damage to your home or business, make sure you contact a professional immediately for flood damage restoration services.  These water damage restoration professionals have the best equipment available to remove floodwater and dry your home effectively.
Getting an estimate – the local experienced restoration professionals will diagram your property, make all the necessary measurements, and calculate the number of materials that will be required to restore the good condition of your home.