What Florida Residents Need to Know about Tropical Storm Hermine
Hurricane season is just starting to intensify in the Southeast U.S. as Tropical Storm Hermine is expected to make landfall on Florida's Gulf Coast by the evening of Thursday, September 1.  Tropical storms are very similar to hurricanes, but not quite as strong.  However, tropical storms can still be quite severe and residents in Florida as well as the surrounding southeast coastal states should do what they can to prepare their homes for the impending storm.
The following is important information that you should know about Tropical Storm Hermine.
When will Tropical Storm Hermine hit and how strong is the storm?
The National Hurricane Center (NHC) is predicting that Tropical Storm Hermine will hit the Big Bend region of Florida near Jacksonville the night of September 1.  The severity of the storm is not completely known, but according to the NHC, it may have the strength of a low-end hurricane.  A hurricane watch is in effect in the Jacksonville, FL area for this reason.  The effects of the storm may last until early Saturday.
Potential Effects of the Tropical Storm
Heavy Rain and Flooding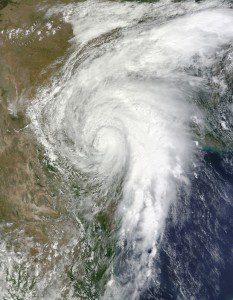 Tropical Storm Hermine will be preceded by heavy rain that could lead to flooding throughout the state of Florida.  As the storm reaches land, the Jacksonville area may experience more rain that could last until Friday.
Coastal Flooding
Much of Florida's Gulf Coast could experience flooding as Tropical Storm Hermine makes landfall.  The intensity of this flooding will be determined by the strength of the storm when it reaches land.  Areas as far south as Tampa Bay and St. Petersburg may even experience coastal flooding so residents in these areas must be prepared.
Strong Winds
Tropical storm wind is strong enough to knock over trees, power lines, and other large objects.  The winds will be the strongest near the center of the storm but it is possible for dangerous winds to branch out from the center.
Tornadoes
The winds from Tropical Storm Hermine could result in isolated tornadoes in northern Florida and southern Georgia.
Impact on other Southeastern States
Tropical Storm Hermine is expected to move northeast after making landfall which could affect the nearby coastal states.  Parts of Georgia, South Carolina, and North Carolina could experience rain, flooding, strong wind, and rough surf along the coast.  It is important for residents of these states to stay informed on the latest about Tropical Storm Hermine and do what they can to protect their homes and themselves from the effects.
Residents who live in the path of Tropical Storm Hermine must pay attention to the latest alerts and do what they can to prepare their property.  If your home or property is affected by the storm, make sure to call a professional for storm damage restoration.  These professionals also provide water damage restoration and will secure your home immediately and restore any damage caused by the strong wind, rain, or flooding.