Tornado Safety Tips – How to Prepare and Stay Safe
While tornadoes are most common in the Midwest, between the Rockies and the Appalachians, they can – and do – happen in any location. Home disaster preparedness is a simple, practical way that you can increase your family's odds of surviving a tornado.
Tornado Preparedness
Knowledge is the key to tornado preparedness, so follow these tornado safety tips.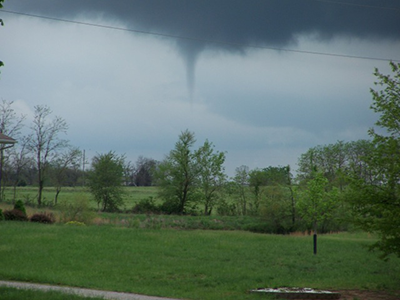 Be sure that every member of your family knows the signs of an approaching tornado, and that they know what to do in case a tornado hits your area.
During a storm, listen to local news or a NOAA weather radio station for updates. If conditions are favorable for tornadoes to form, NOAA will issue a tornado watch for your area. This is the time to go over your tornado safety plan and check your emergency supplies. Consider confining pets to a carrier or placing dogs on a leash during a tornado watch so that you can quickly transfer them to your safe room in case a tornado warning is issued.
How to Stay Safe During a Tornado
If you have a safe room in your home, such as a basement, storm cellar, or a small, windowless interior room, evacuate your family and pets to that room immediately if you suspect a tornado is nearby. Know the warning signs of a tornado:
• NOAA has issued a tornado warning
• Tornado sirens are activated in your community
• Dark, often greenish clouds
• Large hail
• Visible funnel cloud
• Roaring noise that does not fade after a few seconds
Crouch as low as possible, and cover yourself with a mattress, blanket, or some other covering to protect yourself from flying debris.
If you are driving and you see warning signs of a tornado nearby, stay in your vehicle. If you can, safely drive out of the path of the tornado. If driving away is impossible or dangerous, park your car away from trees, power lines, or other potential dangers. Get below the window level in your car and cover your head with a blanket, coat, or cushion to give yourself some degree of protection from flying debris.
If you are outdoors and cannot get to a sturdy shelter, lie face-down on the ground. Try to find a ditch or an area that is lower than the surrounding geography. Cover your head and neck.
After the Tornado – Disaster Restoration
After the tornado has passed and you have administered first aid for any injuries, it is time to restore your home. Take as many photographs as you can, both of your home and your belongings, to simplify your insurance claims. Call your homeowner's insurance agent to report the damage to your home. They will be your best source for advice and disaster restoration resources in the crucial days following a tornado.