ServiceMaster Helps Victims of Hurricane Harvey
As thousands of home and business owners struggle to recover the remains of their property structure and personal belongings after Hurricane Harvey, many are left with nowhere to turn. The New York Times reports over 40 inches of rain hitting the Houston, TX area, leaving 10 at least individuals dead and many others injured.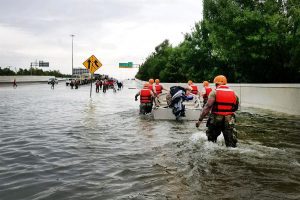 As these victims are desperate for assistance, ServiceMaster Restore, a nationwide emergency disaster restoration company rushes in to help with the damage. Educating the public on how to prepare and recover building materials and personal contents as well as staying safe during the disaster, ServiceMaster is dedicated to helping as many Houston residents as possible.
Largest Hurricane and Natural Disaster in 55 Years
Peter Duncanson, director of operations and safety for ServiceMaster Restore reports, "We haven't seen this type of storm strength come ashore here in over 55 years, and it hit land with a vengeance." Also concerned about the safety of local Houston residents, he adds, "When the storm passes and the rain stops, the stability of buildings, utilities and safety will be a major concern for everyone." With over 32 years of working with the business, Duncanson continues to coordinate restoration efforts within the Houston, TX area.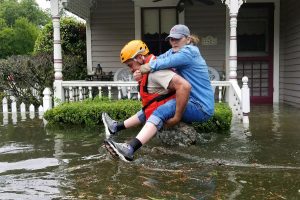 As ServiceMaster Restore is a nationwide organization, 14 local franchises have been aiding with restoration efforts. In addition, 25 others have mobilized to help as part of their participation in ServiceMaster's Emergency Response Network, a nationwide organization that aides in the restoration of the country's most extreme natural disasters.
How to Recover from Hurricane Harvey
While a number of ServiceMaster franchises rush to help the Hurricane Harvey victims, the amount of damage incurred will take months, if not years, to restore. Meanwhile, many property owners have been provided with a number of DIY restoration steps on how to recover and prevent additional damage to their home or building.
How to Restore Property and Prevent Additional Damage
Only return to property when cleared. Structural and electrical damage pose severe threats to personal safety. Protect the safety of you and your loved ones by allowing the authorities to inspect the condition of the home or building before re-entering.
Be aware of electricity. If you have not already turned it off, electrical damage, especially when in contact with water, is extremely dangerous. Water can also comprise circuitry by passing through outlets, wires, and electrical equipment. Avoid any standing water and contact with any appliances that contain water damage.
Wear protection. If you are walking in standing water, who knows what you could be stepping in. For your safety, always wear appropriate shoes, glasses, hardhats, and other safety equipment when wading in flood waters.
Don't touch contaminated contents. Just because something has dried does not make it safe to use. Flood and storm water carries anything from biohazards, feces, petroleum, chemical waste, and other harmful substances. Allow a ServiceMaster technician to clean all contents and building materials or you can dispose of them yourself.
Collect the evidence. After ensuring your property is safe to re-enter, taking pictures of the damaged structure will help during the claims process with your insurance company. This includes documenting water-damaged contents and warped doors, floors, cabinetry, ceilings, etc.
Be aware of additional damage. Keep in mind the risk of mold growth within the structure as it may take some time before the water can be extracted. But as soon as the building materials and contents are dried, have a professional test for mold.
Call in the professionals. While there are a number of homes and buildings to be treated after Hurricane Harvey, ServiceMaster has 39 franchises working in the area to restore properties to their previous condition. Within their flood cleanup services, they will bring in water extraction as well as drying equipment to restore building materials and contents.
About ServiceMaster Restore
As a nationwide disaster restoration provider, ServiceMaster visits over 75,000 residential and commercial properties everyday. With years of experienced and the use of advanced restoration products and equipment, no amount of damage has ever made them turn their backs on victims of natural disasters.
ServiceMaster also employs a number of brands in the restoration and cleaning industry, including ServiceMaster Clean (janitorial services), ServiceMaster Restore (disaster restoration), Merry Maids (residential cleaning), Furniture Medic (furniture repair), and many others. While they are available 24/7 for emergency disaster restoration, customers can also depend on them for other cleaning and restoration needs during business hours.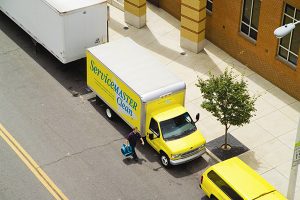 Finally, ServiceMaster is widely known and respected among all major insurance carriers, including Farmer's Insurance, State Farm, Allstate, Progressive, Geico, Liberty Mutual, Metlife, American Family, and more. Due to their 24/7 and quick response, they are the first choice of many local providers throughout the country.
What's Next After Hurricane Harvey
While some franchises can stay longer than others to restore homes and buildings in the southeastern Texas area, ServiceMaster is committed to helping and educating as many victims as possible during the recovery process.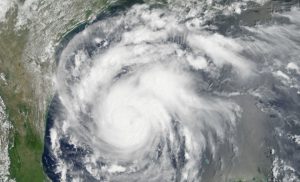 Individuals and businesses not affected by Hurricane Harvey can help by donating to the recovery efforts, covering the costs of food, water, shelter, and other needed resources. Finally, it is highly recommended by RestorationMaster Finder and ServiceMaster to be aware of all large storms and natural disasters nearby as well as the necessary steps to stay safe and minimize damage.