ServiceMaster 24 Hour Among ServiceMaster Businesses Dispatched to Help with Louisiana Flooding
Louisiana is currently experiencing very severe flooding that has affected tens of thousands of people.  An estimated 20,000 people have been saved from their flooded homes and officials believe that as many as 15,000 homes and businesses have been affected.  The Louisiana flooding has also resulted in several deaths.  The U.S. government declared the flood a federal emergency and many different agencies and institutions have arrived to aid with the rescues and cleanup effort.  ServiceMaster responded to this federal emergency by dispatching ServiceMaster Recovery Management (SRM) centers to Louisiana to help with the flood damage restoration.
ServiceMaster Recovery Management centers are ServiceMaster businesses that are ready to go anywhere in the U.S. and help out with the recovery for major disasters.  ServiceMaster 24 Hour of the Tampa, FL area is one of the SRM centers sent to provide relief for the flooding in Louisiana.  Thousands of homes and businesses have already been affected and if the flood cleanup and restoration does not happen soon enough, the conditions can get even worse.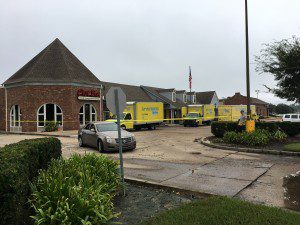 According to Peter Duncanson, director of system development for ServiceMaster Restore, "Once a property is flooded, timing is of the essence to get the water extracted, items dried and prevent mold growth."  He continues, "Our disaster restoration experts can guide you through the process with your insurance company, ensure your home is properly taken care of and restore your home back to its normal state."
ServiceMaster Flood Damage Restoration
The flood damage cleanup services provided by ServiceMaster 24 Hour as well as other ServiceMasters include these basic steps:
Complete extraction of the flood water
Drying of affected surfaces, structural elements, furnishings, and other objects with advanced drying and dehumidification equipment
Cleanup, repair, and disinfection of the affected areas
Mold remediation if needed
Content cleaning and pack-outs
Carpet and upholstery cleaning
If you are in an area of Louisiana affected by the flooding, get yourself to a shelter or safe area as soon as possible.  If your home or business has been severely damaged, flood damage restoration professionals including ServiceMaster are in the area to help.  Your top priority during extreme flooding is to make sure you and your family have reached a safe area.  Once you have escaped danger, you must turn your attention to flood damage restoration to get your home or building restored.
You can read more about how ServiceMaster is helping with the Louisiana flooding in this press release.