How to Maintain and Extend the Life of Your Home
When you purchase a house, it's necessary to keep it clean, safe, and protected from the environment. Your house starts to become your home, and keeping it standing for decades is possible when you make time in your schedule to maintain it. A new study reveals that Americans don't complete tasks like cleaning the gutters, inspecting their roof, and checking their window seals annually.
While these duties seem small, the impact can result in mildew and mold, water damage, and an overall deterioration of the property. Here are a few tasks to complete as a homeowner.
1. Cleaning your gutters
One of the most shocking statistics from the study? 84% of Americans admit to not cleaning out their gutters within the last year.
The gutters of your home are there to keep water away from the foundation, ultimately preventing flooding. Without cleaning it out, the gutters can become flooded and lead to foundation cracks and, worst of all, water damage and rotten wood. If you live in an area known for rain and floods, this step is extremely important. If you get a ladder and some gloves, the task could be done without having to hire someone. The gutters are probably filled with various branches, leaves, and other sediments, so make sure you are wearing the gloves.
2. Inspecting your roof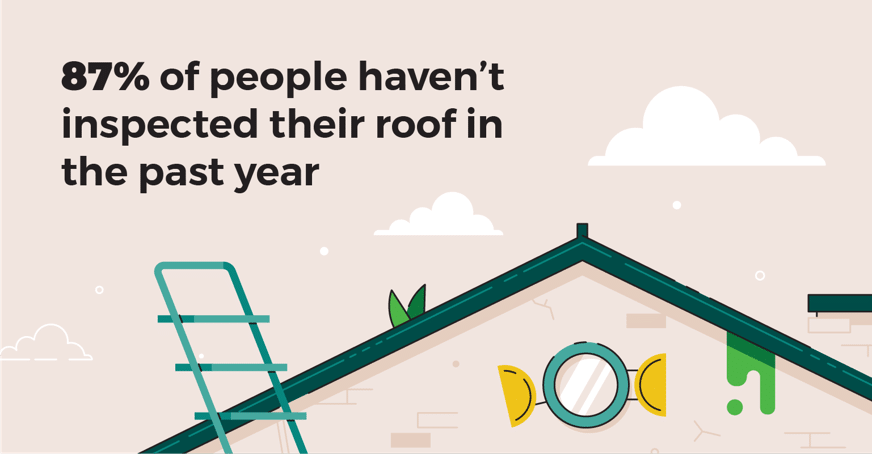 The majority of Americans say they haven't inspected their roof in the last year, making it almost rare for people to do so. If you get a professional to check on your roof, they will be looking for any damage or leaks that might be there.
If you want to take on the challenge for yourself to inspect, look out for any cracks or missing shingles around the roof. Especially after a major weather crisis, the chances are higher that you may need roof repairs. If you look at the roof from a lower angle, it might be easier to see if the shingles are lifted up or impaired.
3. Showering without ventilation
Moisture builds up in your bathroom and should be dried as quickly as possible. With extreme moisture, mold tends to grow. Therefore, by opening a window or turning the fan on, it lets out the steam and quickens the drying process due to the air exchange. One in four people admits to not doing either when showing, which leads to mold growth.
Mold growth is extremely dangerous and creates an unlivable environment for humans. There are a lot of opportunities in homes that allow for mold to grow, so ensuring that your home is mold-free is important. Make sure to close the window after the area is free of moisture, especially when it rains or is humid outside. Having a vent in the bathroom also does the job.
If mold does appear in your bathroom or anywhere in your home, don't hesitate to call a mold remediation professional right away.
4. Take care of your drains
Putting food down your drains is detrimental and can clog the drain. Unless it's a non-grease liquid, nothing should really be going down the drain. A large portion of people admit to putting lemon peels, pasta, and eggshells down their drains. At number four, grease or oil is one of the worst food-related items you can put since it commonly leads to clogging.
Being a homeowner is an exciting and favorable time that comes with some duties as well. By inspecting it once or twice a year and implementing some new rules, your house will be able to stay being your home for a long period of time.
The image below goes more in-depth about the home upkeep trends in the United States, and how to maintain a house from the foundation to the roof.