Hurricane Safety Tips
Hurricanes are powerful storms that can cause considerable damage to homes, buildings, and even entire communities and for those living in the Southern and Eastern U.S., there is a consistent threat of a hurricane for much of the year.  Hurricane season lasts from the earliest days of spring to late in the fall and it is very important for those that live in hurricane prone areas to always be ready for the possibility of a storm.  This includes preparing your home just before hurricane season, and knowing what to do before, after, and during a hurricane to keep yourself and your family safe.  Below are some important hurricane safety tips that can protect you, your family, and your property throughout the hurricane season.
Early Preparation and Supplies
Hurricane safety should be taken seriously from the very beginning of hurricane season to ensure that your family and property are prepared.  It is important to know the evacuation routes in your area in case you have to evacuate, especially if your home is near the coast.  You should also have your home inspected to ensure that it is up to code to handle the strong winds of a hurricane.  Perhaps the most important preparation for hurricane season is putting together a supply kit so you and your family have everything you need to make it through the storm.  A hurricane supply kit should include the following:
Non-perishable foods such as soups, cereal, and dry goods as well as a can opener
Blankets, pillows, and sleeping bags
Flashlight and batteries
Gallons of water
Toiletries such as toilet paper, toothbrushes, shampoo, etc.
Family prescriptions and first-aid kits
Important documents such as birth certificates, credit cards, social security cards, etc.
Tools
Hurricane Watch or Warning
When a hurricane watch or warning is issued in your area, you must immediately go on alert.  At this stage, you should make sure your supply kit is in order and take steps to board up your home while you still have time.  You and your family should also be ready to evacuate along the planned evacuation route if residents in your area are advised to do so.  You can effectively board up and prepare your home with the following steps:
Turn off the water, electricity, and gas
Lock all windows and doors
Draw drapes and close blinds
Secure loose, outside objects such as furniture, lawn decorations, potted plants, etc.
Board up your windows with plywood boards that are ¾ inch thick or thicker
Secure your doors with head and foot bolts and use straps or clips to contain your walls and roof.
Impending Storm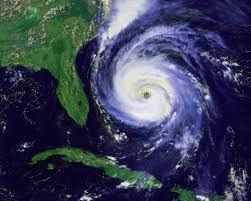 If a hurricane has become imminent in your area, your home should be boarded up and your supplies should be available in case you need them.  You should also pay attention to local weather reports to stay updated on the progress of the storm.  It is best for your family to take shelter in the most secure area of your home as it might be too late by this point to safely evacuate.  If you are forced to evacuate before the storm hits, make sure you follow these steps:
Leave as soon as possible to avoid traveling when the storm hits. Keep in mind that many others in your area may be evacuating at the same time.
Make sure you leave with your entire family and have your hurricane safety kit ready to go.
Take your cell phones to keep in constant contact with your family through the evacuation.
You may need to make special accommodations for your pets because many shelters do not allow animals.
Eye of the Storm
If you are taking shelter in your own home when the storm hits, follow these simple tips to help ensure your safety:
Do not leave the secure room
Avoid going near windows
Get weather updates from the radio, TV, or internet
Have your supplies ready for use
Do not be fooled by the eye of the storm, stay in your home as the storm will continue.

Aftermath and Returning Home
If you spent the storm taking shelter in your home, you should remain inside until the hurricane has passed completely.  If your family was forced to evacuate, make sure the municipal government has deemed it safe to return as floods, mud slides, downed power lines, property damage, and other resulting disasters can continue to make the area dangerous after the storm.  It is just as important to exercise safety precautions in the aftermath of a hurricane as it is during the storm and it may take a while for your home or area to return to normal.  In the meantime, try to stay safe in your home and use your emergency supplies if necessary.
Hurricanes vary widely in strength and have the potential to cause all types of problems from damage to your home to widespread flooding and destruction that can disrupt entire communities.  Following these safety tips will help you keep your family and your property safe in the event of a hurricane.  If you experience significant property damage as the result of a hurricane, make sure you call a storm damage restoration professional immediately to help repair the damage.  These professionals will stabilize your home or building to prevent further damage and repair the home quickly so you can resume your normal life.