How to remove carpet dents or divots using common household items
You rearrange your living room or bedroom furniture, and there they are – big "dents" or "divots" in your carpets or rugs. No amount of vacuuming will remove them. The good news that most of these dents can be removed with some patience and easily available household tools.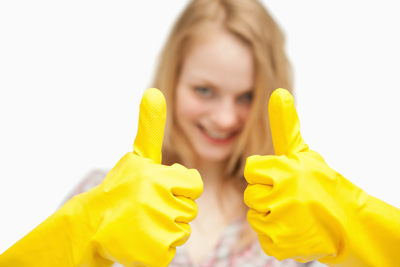 Try these methods to remove carpet dents:
1. Use an ice cube. You place an ice cube into the carpet dents and wait until the ice melts. Use a sponge to pick up any excess water, and then gently tease up the fibers using a fork. Some people also recommend a wire brush, but make sure that you have a carpet with durable fibers if you use a brush. Vacuum.
2. Place a clean cloth, like a towel or washcloth, over the dent and use the "steam" setting of your iron (make sure there is water in the iron to create the steam). Do NOT place the iron directly on top of the carpet. Gently lift up the fibers with a fork. Vacuum.
3. For dents that are really deep, you can place a moist washcloth or towel over the dent and gently iron over the towel on medium heat. The fibers should start to spring up. Leave the washcloth or towel over the dent until the towel is dry. The heat plus the moisture can often combine to miraculously lift the dent. Vacuum.
4. Spray the dent with water and then use a blow dryer to heat the dent. Use your fingers to tease up the fibers while using the blow dryer. Vacuum.
If you have any questions about caring for your carpets and rugs, contact a professional like the experts at ServiceMaster DAK Enterprises in Northbrook, Illinois.