How to Remove Bathroom Mold
We can all probably agree that bathroom mold is something we don't want in our homes, right? And regardless if you live in the Midwest or in a year-round humid climate, mold seems to have no problem growing in bathrooms, which makes sense because they have everything mold needs to feast on:
Constant moisture
Heat
Steam
Dirt
Mildew
Porous materials, such as caulking and drywall
Soap scum
Why Is Mold Dangerous?
The thing with mold, though, is that it's not only ugly, but it can also be dangerous to your health, the health of children, and even our pets. In fact, mold, once it's allowed to spread, can affect your health in many undesirable ways, such as: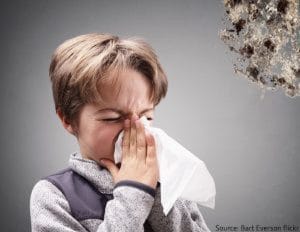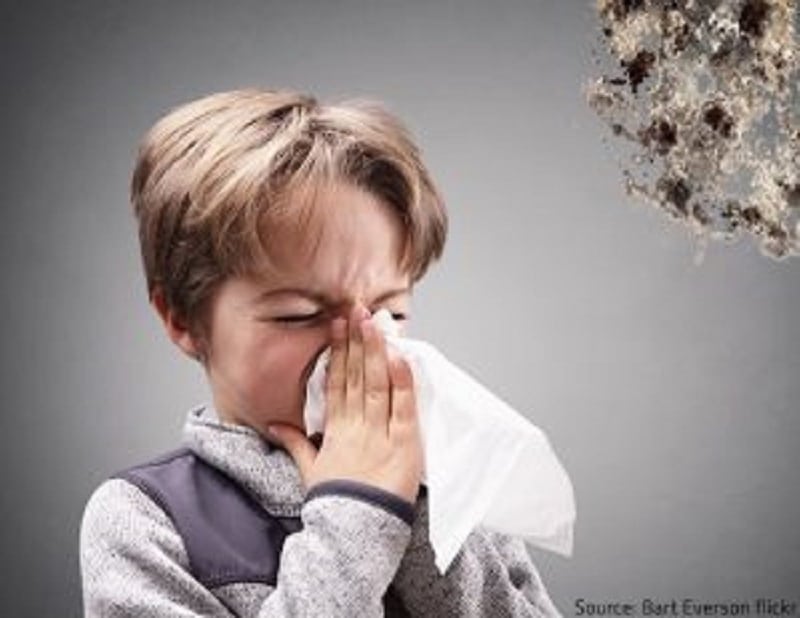 Congestion
Coughing, wheezing, and other forms of respiratory difficulties
Eye irritation (itchy and watery eyes)
Skin irritation, hives, and/or rashes
Dizziness
Vomiting
Sneezing
Fatigue
People with Asthma and lower immune systems are especially vulnerable to mold's adverse health effects. Some other, severe symptoms may include:
Memory loss
Blood pressure changes
Nausea
Insomnia
Infertility
UTI's (urinary tract infections)
The symptoms may also become more serious the longer you have been exposed to the fungus. Now add this to an enclosed area in a small room with hot water and circulating steam…you get the idea.
But now, something to be aware of is that even if you are able to remove the mold from your tiles or walls, there may be more serious issues in the background, especially if there is water damage included. Mold is sort of like cockroaches — if you see one, you know there are more in the walls. Likewise, mold is rarely just on the surface, and in many cases, you can be sure there is more behind the walls, maybe even compromising the structure of your home (wood beams, ceilings, floors, etc.). Many common building materials contain cellulose, which is a substance that mold uses as a food source (you'll also often find cellulose in many shredded cheese packages to help prevent caking). So the fungus is actually using this material as its food source, eating away at the materials and, in the process, damaging its structure. This is why mold is such a serious issue, why you should be concerned if you discover mold growing in your home or building, and why you may want to look into a professional mold remediation and removal company.
How Can I Prevent Mold From Growing in My Bathroom?
Mold grows best in warm and humid rooms. Therefore, to help prevent mold growth in your bathroom, keep it well-ventilated:
Open a window if you have one
Keep the door open
Turn on the fan (and clean it if needed)
Use a dehumidifier
Take a colder shower (to prevent so much steam)
There are also several suggestions to keeping the tub/shower clear of mold that include cleaning it after your time in there, but they're not perfect solutions. For instance: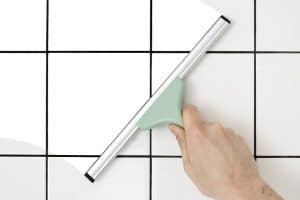 Use a squeegee: Squeegees come in all sizes and prices. Each time, after turning off the water, it's suggested to squeegee the walls, then push everything on the floor to the drain. But unless you used a towel afterwards, everything will still be damp. Sure, the squeegee was able to remove all the large drops, but the moisture is still present, especially in the grout. And this was where the mold most often grows.
Tile spray: There are some chemicals you can buy at the store in a spray bottle that instruct you to generously spray its contents all over everything after each shower. Some say to just leave it there, while others tell you to sponge or scrub it off with a brush. However, these don't always work, for again, it's the moisture in the grout that remains. Plus, do you really want to risk getting any of this on your body after showering?
Material: There's also a common claim that says mold will not grow on plastic or vinyl. Yet, it seems to have no problem growing on plastic and/or vinyl shower curtains. Even curtains that are labeled as mold-resistant can't seem to hold up their claims. Instead, we end up throwing them away and replacing our shower curtains with new, cheap ones.
How to Remove Mold from Your Tub or Shower
There are many popular mold cleaning methods. However, these are not perfect solutions, either: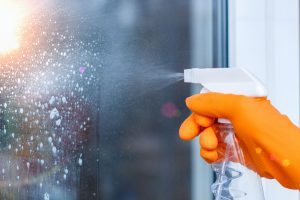 Spraying Vinegar: Whether you spray a vinegar/water mixture or 100%, or keep it on for a few hours or all night, vinegar is not a miracle chemical. It may help get rid of the mildew, but the mold will still be present (even on the areas where you really douse it).
Bleach: Bleach is great for pouring down metal drains to help unclog them and to keep them clear from buildup, but not so much for mold on the walls. Contrary to popular belief, bleach doesn't actually kill mold. And because it only surface-strikes, it's only effective on non-porous surfaces.
Vinegar and dish soap: This popular solution traveled around the internet sometime back. Basically, the dish soap helps keep the vinegar stuck in place long enough to clean the surface onto which it's sprayed. Sometimes it works, but other times, it just leaves blue streaks throughout with a vinegar smell.
Scrubbing: If you do attempt any of these suggestions, be sure to use either a good scrub-sponge or strong brush. These will help scrape away the top layer of the mold and allow the chemicals to hit the roots of the mold. Just be sure to also wear a protective mask, eyewear, and gloves. However, it should also remember that this will just be a quick fix, for in such a humid and less-ventilated room, mold is sure to return in a few weeks.
Professional Mold Removal Services
Bottom line, the best way to completely remove mold is to call a professional mold removal and remediation company. They know what they're doing, they have the right tools for complete mold removal, you won't have to expose yourself to it, and they'll get it done correctly. By eliminating any excess moisture, their professional technicians will contain the mold to prevent it from spreading and worsening the problem, resolve the moisture source, thoroughly locate and clean all mold growth, and repair the damage that was done. And unlike with any DIY project, a professional mold remediation and removal company will take the appropriate actions needed to prevent mold from returning anytime soon.