How to Clean Soot Inside Your Home After a Fire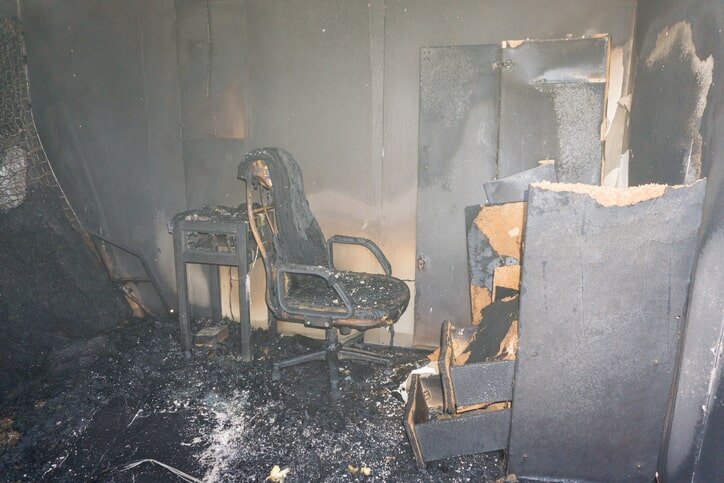 When your home is the site of a fire, there is a lot of serious damage that can be done.
The fire itself will cause your property and personal belongings to burn and become charred. As these materials are harmed by the flames, they produce toxic smoke, fumes, and soot. Smoke will form when synthetic materials burn up, and soot is created due to incomplete combustion.
The flames will work quickly, so it does not take too long for a fire to produce harmful byproducts. Because of how quickly fire and soot damage can occur, it is crucial that you call your local fire department for help right away.
Once the fire has been extinguished, you may feel relieved, and rightfully so. However, your property is not done being harmed. In fact, the secondary damage that can be created due to lingering smoke and soot is often more widespread than the initial damage done by the flames themselves.
If smoke and soot damage are not treated in a prompt manner, then the damage will likely become permanent. Knowing this, soot cleaning must be conducted right away.
Continue reading for soot cleaning tips to use on your home after a fire.
Protect Yourself
When your home has recently sustained fire and smoke damage, you need to be cautious, even with no flames present. Lingering smoke and soot are present and can be harmful, not only to your home, but to your health as well. Knowing this, wait first until it is safe to enter your home, then protect yourself before you begin the cleaning process.
Wear long clothing that covers your limbs and protective gear. This includes goggles, a mask, and rubber gloves. The goggles will keep smoke particles and other debris out of your eyes and the mask will prevent you from breathing in harmful elements. The gloves are important because the natural oils in your hand can worsen soot damage. With gloves, you can handle soot-damaged objects and surfaces without causing additional harm.
Vacuum Loose Particles
Depending on the material and surface, you will need to use a different cleaning method to ensure effective work. Regardless of the type, the one thing you can do for any surface is start cleaning by vacuuming up loose soot particles. However, it is important to use not just any vacuum, but one that has a HEPA filter. This filter will effectively pick up the loose soot without redistributing it back into the air.
How to Clean Soot from Walls and Flooring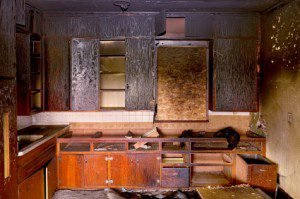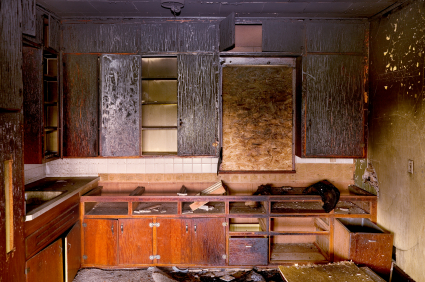 If your home's flooring and walls have been damaged by soot, you can either use mild soap/detergent or a combination of tri-sodium phosphate and chlorine bleach. If you opt for the latter solution, use the following ratio as a guideline:
1 gallon warm water
1 cup chlorine bleach
4 to 6 tablespoons tri-sodium phosphate
When handling soot cleaning for walls, focus on one section at a time instead of handling the entire wall all at once. Scrub the affected part with the solution you have created. To prevent streaking, start by cleaning the affected areas near the floor and work your way up toward the ceiling. Use clean warm water to immediately rinse the sections down after thorough scrubbing.
How to Clean Soot from Clothes and Other Garments
The aforementioned solution made of warm water, bleach, and tri-sodium phosphate can also be used to clean clothes and other fabric garments. The tri-sodium phosphate is especially helpful in this situation because it can lessen odors. However, you can also use standard laundry detergent to clean soot-damaged clothes and fabrics in your washing machine. Just use cold water and add a teaspoon of vanilla extract after adding detergent.
Seek Cleaning Help from Soot Damage Professionals
When your home has been damaged by a fire, immediate action is crucial for limiting the amount of harm done.
In addition to being affected by the flames, your home will likely have suffered some amount of smoke damage and soot damage, too. To prevent permanent damage, you need to address fire damage restoration needs immediately.
While there are ways to clean smoke and soot damage on your own, it is always in your best interest to seek help from a professional smoke damage and odor removal service.
Within such a service, professional technicians will clean the smoke and soot damage your home has suffered. Then, they will either restore or replace the affected materials. Professional cleaners have the tools, equipment, and expertise to clean soot damage in a safe and effective manner. There will be no need to worry about whether you have the proper cleaning products or are using the correct techniques.
Furthermore, when you call for fire damage restoration services, technicians will promptly respond and come to your home to begin their work. This allows them to begin the service right away, limiting the potential for permanent damage.