How Flood Water Affects Your Health and Safety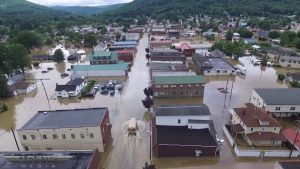 While flood waters can certainly destroy a property structure and its contents, they can also be extremely dangerous to your health. There are 3 different categories of flood damage, including fresh water, grey water or sullage, and sewage water. If any contact is made with the floodwater without proper protection equipment, you will face the risk of severe illness.
In addition, floodwaters can carry sharp objects and chemicals that may not be seen below the surface. But despite these severe threats, it is crucial to be aware so that you and your family or staff can be properly prepared when it does happen. Watch out for these risks as to how flood and water damage can affect your health.
Health and Safety Risks when Dealing with Flood Damage
While deeper waters will pose higher threats than those that are a few inches, any amount is dangerous and can cause serious harm to you and your loved ones.
Injury from Sharp Objects
While you may not see sharp objects at first, treading through murky water is extremely dangerous. If your basement was flooded, any nails, screws, broken glass, or any other small metal pieces can cause an injury and even infection.
To protect your own safety, wear long clothing and thick shoes if you have to tread through the water. Otherwise, it is better to stay away.
Safety Threats from Structural Damage
Because water is heavy, it can put a ton of pressure on a property structure – especially if it contains porous materials – that makes it weak to collapse at any minute. That's why it is highly recommended to stay away from homes and buildings with severe structural damage.
Even if the structure is made of cement and does not appear to have sustained significant damage, it does not mean that it should be deemed safe. Any loose wiring can cause a serious injury if the electricity is still on; therefore, any electrical damage that is not visible from the outside does not give the green light to enter the property. Instead, wait until a team of reconstruction specialists have deemed it safe to re-enter.
Safety Threats from Electrical Damage
Even if you are not in any building, any fallen power lines pose a huge risk of electric shock. While many have been submerged underwater, it will be extremely difficult to see them as the water will be murky.
If you do see any power lines that have fallen into the water, be sure to report them to your local electric company and stay away from them. If for any reason that you have to enter the water, make sure that all power in your area has been shut off.
Open Wounds Allowing for Diseases
If you are treading through water and are cut with any sharp objects, get out immediately. Any open cuts or wounds will be exposed to millions of harmful bacteria in the water, discounting any harsh chemicals that can irritate the injury.
If you have any healing sores or injuries, try to avoid the water, or at least ensure the injuries are properly protected before entering.
Harmful Chemicals and Substances Causing Infection
Even if you don't have any open wounds, anybody who enters floodwaters are still facing the risk of serious infections and diseases caused by a variety of dangerous substances. These can include any of the following:
Sewage waste
Gas
Oil
Organic waste
Animal feces
Blood
Pathogens
If any of these were to become ingested, you are likely to experience a number of negative health effects, such as vomiting, diarrhea, nausea, and gastroenteritis. If you notice any of the substances in the water that are mentioned above, stay as far away as possible.
Health and Safety Risks Caused by Insects and Animals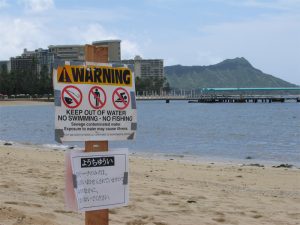 As you are probably already aware, water attracts a lot of bugs, mainly mosquitoes. If any of these insects carry harmful diseases and bite through skin, there is a high chance of experiencing severe itching, fever, vomiting, diarrhea and a variety of other health effects.
In addition, any animals that have been carried in by the floodwaters, such as snakes, alligators, or raccoons will pose a severe threat to personal safety. This is why it is extremely important to stay where you are and wait for a team of natural disaster rescue professionals to help you.
Emergency Help After Experiencing a Flood
Without a doubt, floods can devastate homes and buildings, but the safety risks they pose to humans can make the situation much worse. Due to the varying amounts of sharp objects, chemicals, bacteria, animals, loose wiring, and insects contained in the flood waters, it is essential to avoid as much contact as possible.
Instead of treading through the water, it is best to wait for a rescue team to come instead. There will also be flood cleanup professionals, in the area to help repair and restore homes and buildings with significant structural damage. Because they understand the feeling of losing a home and belongings, they will work tirelessly to return your property to its original condition. Don't hesitate to call as soon as you notice the damage.