Everyday Preventative Maintenance Tips for Your Grease Traps
In the busy environment of a commercial kitchen, there is a lot of equipment in use that must be properly maintained to ensure the effective and sanitary operations within the kitchen.  While plenty of time is spent maintaining ovens, fryers, sinks, and other equipment that is constantly in use, you cannot forget to provide the proper maintenance for your grease traps.
Grease traps are a very important piece of equipment in a food service establishment because they filter the grease from the water and prevent it from entering the sewer system.  If fats, oils, and grease find their way into the drain, they can solidify and clog the drain, causing overflows and damage to the plumbing and fixtures.  Fats, oils, and grease can also cause damage to the sewer system if they get that far and leak into the natural environment.  Poorly maintained grease traps will not only result in damage and pollution, but also fines for your establishment for violating municipal codes.
The employees in a commercial kitchen must use best practices everyday to help maintain the grease traps and keep them functional.  Once the grease traps become full, it is important to call a professional like Mahoney Environmental to provide full grease trap cleaning services.  At Mahoney Environmental, we provide scheduled grease trap cleaning and maintenance to ensure that grease traps are routinely cleaned and checked for maintenance issues which helps prevent clogs, damage, and other issues.
In between professional cleanings, you must follow these best practices in your commercial kitchen to provide preventative maintenance for your grease traps.
Scrape All Plates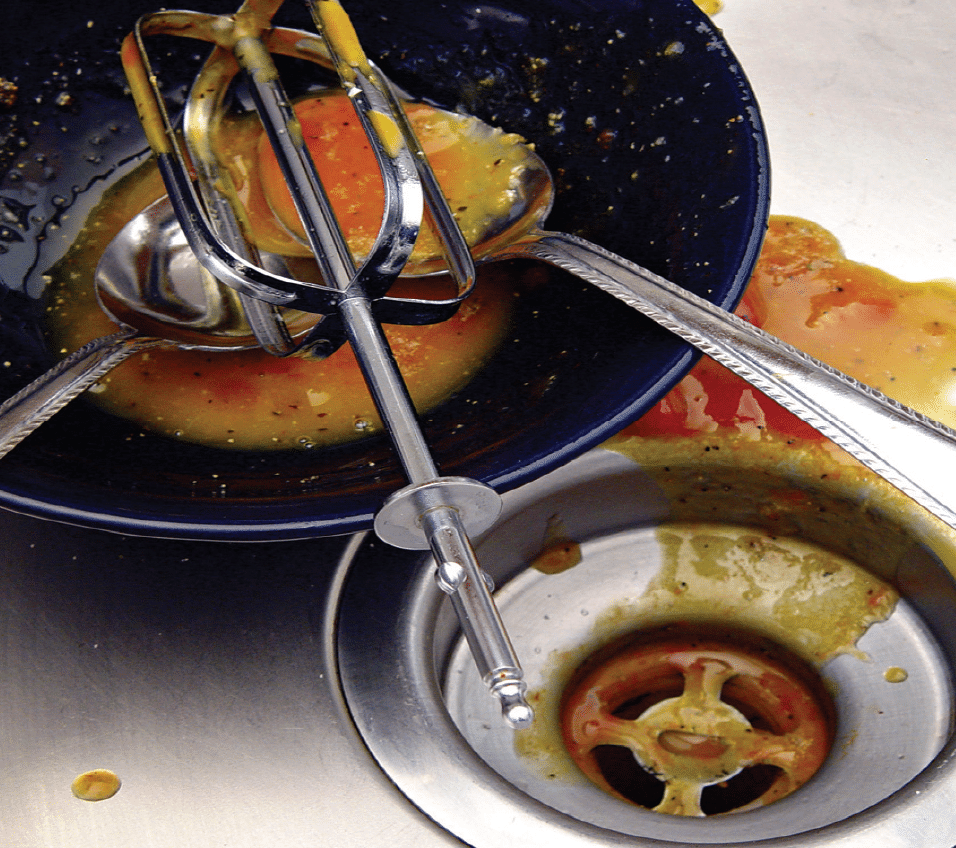 An effective way to prevent fats, oils, and grease from washing down the drains in your kitchen is to prevent them from entering the sink.  Scrape all food off of plates and other dishes with a rubber spatula before putting them in your sinks.
Install Screens Under Sinks
Scraping the plates will get most of the food in the garbage, but there will still be some food and grease left, especially during the busiest times.  This is why it is important to install screens under the pre-rinse sink and the three-compartment sink.  These screens will ensure that any food or grease left over on the plates will be filtered from the water that runs through the sink, keeping your pipes protected.  If your restaurant serves small grains like rice and corn, these screens are especially helpful for keeping them out of the pipes.
Clean Spills Right Away
Spills are likely to happen in a commercial kitchen and when they do, they need to be cleaned up right away.  Cooking oil, soups, sauces, and other food items that can be spilled contain grease that can find its way into a drain and create a slip hazard in the kitchen.  Greasy food spills should be cleaned up with towels and thrown into the garbage.  Do not mop a greasy spill into the floor drains.
"No Grease" Signs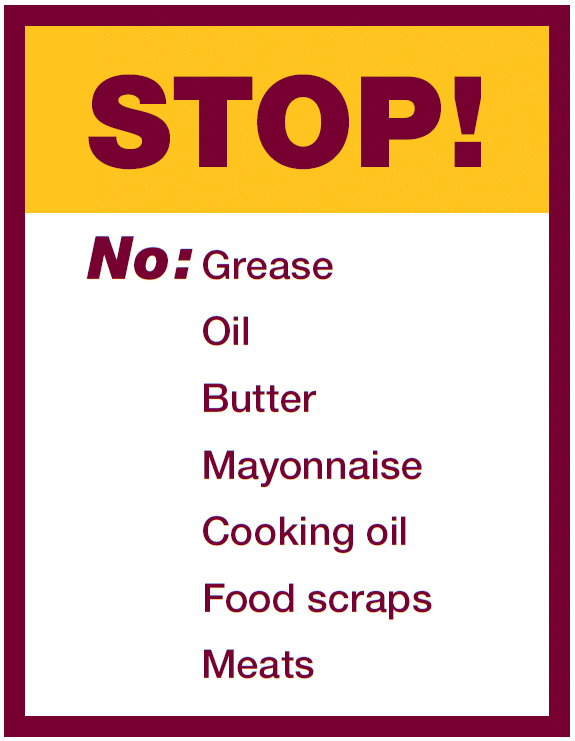 Posting "No Grease" signs above sinks and appliances used for dishwashing and food preparation will remind your employees to avoid dumping grease, fats, and oils down these drains.  Make sure you post a sign everywhere in your kitchen where necessary.
Watch your Water Temperature
If you are using hot water to wash dishes or pouring boiling water down the drain, you must make sure that the water temperature is below 144 degrees F.  Water above 144 degrees will melt fats, oils, and grease, allowing it to drain through the screens and grease trap and into the sewer.  The grease and oils will then solidify later and cause serious issues.  Allowing these substances into the sewer will also get your establishment fined.
Do Not Use Disposals
Commercial kitchens generally do not use garbage disposals and food grinders anymore because they let ground up food through the sink and into the pipes.  The food will likely cause a clog somewhere in the pipe which can lead to backups and damage.  It is best to keep these devices out of your kitchen and follow the above-mentioned steps to help keep food out of your pipes.
Importance of Professional Grease Trap Cleaning and Maintenance
If you follow these best practices to keep grease out of your pipes, your grease traps are your last line of defense.  Any grease, oils, and fats that manage to get through the screens in the sink will be filtered by the grease trap before it reaches the sewer line and stored within the receptacle of the trap.  The grease rises within the receptacle, allowing the water to drain at the bottom.
As the grease and oils build up within the grease trap receptacles, it can restrict the drainage of the water and eventually clog the lines.  This is why it is important to limit the amount of grease entering the grease traps and regularly check the traps to prevent a clog.  You may experience the following if your grease traps are clogged:
Foul odors in the kitchen as the odors have nowhere else to go
Backups and flooding
Possible contamination, safety, and health issues
Expensive remediation services
Customer complaints
Municipal fines
Business closure
Our professionals at Mahoney Environmental provide restaurant grease trap cleaning services to help clean and maintain grease traps in commercial kitchens.  We will arrive at scheduled times to clean out the traps and provide any necessary maintenance to keep them functional.  A copy of our inspection report of your grease traps will be given to you and we will keep a history of the maintenance services we provide so we can identify potential problems before they occur.
Contact Mahoney Environmental at (888) 915-7197 to learn more about our grease trap cleaning services.