Dryer Fire Prevention: Do's and Don'ts
The United States Fire Administration reports that, every year, there are 2,900 incidents concerning dryer fires across the country. These clothes dryer fires have led to significant damage: approximately $35 million in property loss, five deaths, and 100 injuries.
The U.S. Fire Administration has also found that a majority of home clothes dryer fires happen during the fall and winter seasons. Knowing this, it is important to know what to do to prevent clothes dryer fires from occurring.
Dryer Fire Prevention: Dos
Clean the dryer's lint filter on a regular basis.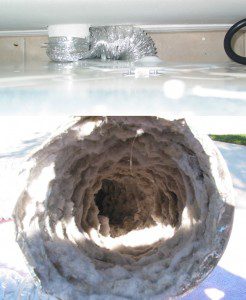 After every use of your dryer, you need to clean out the lint filter. This is an especially important task to remember because clogged lint filters are the top factor when it comes to home dryer fires. In fact, over one-third of residential clothes dryer fires are caused by lint filters that aren't cleaned out.
When you load your dryer, make it a habit to check that the lint filter has been cleaned. Cleaning lint filters not only helps prevent dryer fires from occurring, but it also allows your dryer to run more efficiently. With a more efficient dryer, your clothes and other linens will become dried quicker all while lessening the chance of the dryer overheating.
Additionally, use a nylon brush to clean your dryer's lint filter. You should do this every six months, because it will ensure the filter becomes thoroughly cleaned. If you find that your dryer's lint filter clogs up more easily, then clean it with a nylon brush more frequently.
Inspect the dryer's ducts and vents regularly.
Another cause of dryer fires is blockage in the dryer ducts or vents. Knowing this, check your dryer's ducts and vents on a monthly basis to guarantee there are no blockages.
If any ducts have been blocked, be sure to clean them before you use the dryer again. Otherwise, you will risk dryer vent fires. Dryer vent cleaning can be done by disconnecting the ducts from the dryer and then removing whatever is causing the blockage. When doing this, clean beneath and behind the dryer as lint is known to build up there as well.
Common indicators of clogged ducts include exhaust air not leaving the vent, overheated machines, and loads of laundry that take longer to dry than usual. If you discover any of these signs, check the ducts for blockage or even damage.
Blockage can also happen as a result of damaged ducts. If this is the case, then have a professional tend to the damage.
Have outdated ducts replaced.
Accordion-style ducts made of foil or plastic are known to sag, and their shape makes it easier for lint to become trapped. That makes these kinds of ducts more prone to causing dryer fires. Because of this, it is recommended that such ducts are replaced with newer models that are made of sturdy metal.
Have your dryer professionally cleaned.
Aside from cleaning your clothes dryer on your own, you can also contact a professional to conduct dryer cleanings. With professional cleanings, you can ensure that your dryer is properly cleaned, including its venting system.
Dryer Fire Prevention: Don'ts
Don't use your dryer without the lint filter.
Using your dryer without its lint filter can easily lead to a fire. The filter collects lint and prevents the lint from being collected within the actual interior of the dryer. When the lint filter is absent, lint can effortlessly build up in the dryer and lead to a fire.
Whenever you use your dryer, check that the lint filter is in place before starting the machine. If you find that the lint filter is damaged, worn out, and/or has holes in it, replace it. You can find a replacement at your local home supplies store.
Don't overload your dryer.
When you overload your dryer, an excessive amount of lint can build up. The more lint that has accumulated, the more difficult it is for the dryer to properly ventilate. When a drying machine cannot ventilate, it overheats and can result in a fire. Keeping this in mind, only load your clothes dryer to its capacity. If you're unsure how big of a load your dryer can handle, then consult the owner's manual.
Don't let your dryer run while it is unattended.
You should never leave your dryer running while it is unattended. This is because, in the event that a fire does break out, no one will be able to tend to it or call the fire department immediately. Without such abilities, the fire can cause damage to more than just your laundry room or area; it can quickly spread and damage your entire home. Make sure the dryer is only used when someone is around who can respond to an emergency.
Don't dry anything that shouldn't be exposed to heat.
Some items, as instructed by the manufacturer, aren't meant to be dried using a clothes dryer. So before you place clothes and other items in the dryer, check the label for instructions on how to properly dry them.
If your clothes or other items have come into contact with oil, alcohol, gas, or any other flammable substance, do not dry them in the dryer either. Instead, have them air dry away from heat in a well-ventilated area.
Fire Damage Restoration
When you use your clothes dryer, keep these fire prevention tips in mind so that you limit the potential for dryer fires. In the case that your residence does experience a dryer fire and suffers damage from it, seek fire damage restoration services immediately before the damage worsens. With such services, fire damage professionals will properly tend to the damage, make repairs and restoration as needed, and address the effects of smoke and soot.