The Most Common Types of Debris in Your Air Ducts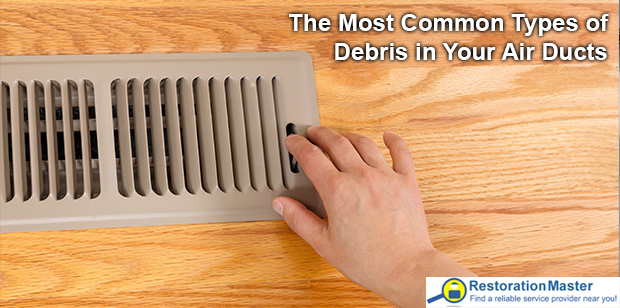 You keep your home relatively clean, and change your furnace air filter regularly – but what about the sections of your home that you can't easily access? Dirty air ducts may aggravate your allergies, contribute to poor indoor air quality, or harbor pests.
Common Causes of Dirty Air Ducts
There are a few common causes of dirty air ducts. Each can cause different problems, and some are more concerning than others.
Dust, Lint, Pet Dander – Every air duct system has some dust and lint accumulation. If there are pets in the home, dander and loose fur is also common. A small amount of dust and dirt shouldn't concern you, but if it accumulates too much, it will restrict the flow of air through your ductwork, causing your heating and air conditioning system to work less efficiently than it should.
Insect and Animal Feces – Animal droppings or dead insects in your air ducts, are a sign that you have a larger pest problem to deal with. Call a pest control specialist to deal with the problem before you have your air ducts cleaned.
Mold – Mold thrives in moist environments. Air conditioning ducts often collect condensation that never fully dries out, providing the ideal conditions for mold growth. If you suspect mold in your air ducts, you will need to have them professionally cleaned, after you've had the moisture problem examined and remedied.
How Often Should You Clean Your Air Ducts?
Most people have their air ducts cleaned before they move into a new home, simply to ensure that they do not inherit the previous homeowner's dirt, pet dander, or other contaminants.
If you see signs of excessive dirt and debris, mold, or animal waste in your air duct registers, you should have your ducts evaluated by a trained professional.
Find a Reputable Air Duct Cleaning Service
A reputable air duct cleaning service, such as ServiceMaster DAK Enterprises will always do a video inspection of your air ducts, and allow you to see the condition of your ductwork for yourself.
Be wary of any air duct cleaning service that makes health claims. There have been no scientific studies that suggest a link between air duct cleanliness and improvements in allergies or other health conditions.