Checklist for a Healthy Crawl Space
Whether you use the crawl space under your home for storage, or simply to access pipes and other structures for repair and maintenance, you should be sure it is as healthy as the other spaces in your home. As air circulates through your home, mold and other contaminants from the crawl space can be drawn up into your living spaces. The crawl space doubles as the foundation for many homes, so keeping it well maintained is important for the safety and structural integrity of your home.
Water Damage
If your crawl space has a dirt floor, water can seep up through the soil. This is especially problematic during heavy rains or periods of melting snow. If you use your crawl space for storage, keep the potential for water damage in mind. Items stored in cardboard boxes may incur water damage.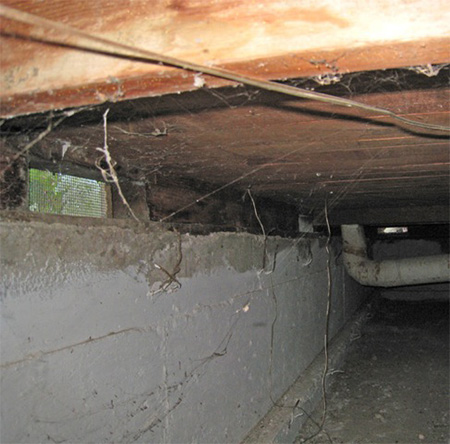 When the ground is wet, the structural supports of your home can also incur water damage. Perform an annual or semi-annual inspection looking for signs of water damage on the walls of the crawl space and any support beams, as well as on items stored in the crawl space.
Mold
Where there is moisture, there is the potential for mold. If you find evidence of water damage in your crawl space, or if the area is damp when you inspect it, look for signs of mold. If you suspect mold in your crawl space, wear a protective respirator to avoid breathing the mold spores.
Sewage
If there is the potential for animals to live in your crawl space, inspect the area for feces and dispose of any animal waste you find. Seal the crawl space to prevent animals from returning.
If you have had a burst pipe or other plumbing problem recently, inspect your crawl space for evidence of sewage. It is important to remove and clean the area promptly to avoid water damage and bacterial contamination.
Water Damage Restoration in Your Crawl Space
If you find water damage, sewage, or mold in your crawl space, call an experienced water damage restoration team to clean and repair the damaged area. This is a project best left to the professionals, due to the potential safety concerns involved.