Frequently Asked Questions About Carpet Cleaning
While many property owners are aware that the purpose of a professional carpet cleaning is to remove spots and stains, there are numerous details involved with this specialized cleaning. Companies will have their own methods, prices, chemicals, requirements for pre-treating the carpet, etc.; therefore, when having your carpet professionally cleaned, it is important to know all factors that are involved with the job. While all companies provide different types of services, ServiceMaster is one of the nation's most trusted carpet cleaning providers. Here you can find the answers to the most important questions asked in regards to our procedures.

What kind of method do you use for carpet cleaning?
ServiceMaster uses a professional technique that has been perfected throughout many years of services. It is called the hot water extraction method. In this procedure, a specialized cleaning wand is used to apply a mixture of warm water and a sanitizing solution deep within the carpet fibers. This will loosen the dirt and debris. The water solution is then extracted back out into the tank, along with the dirt from the carpet. We have seen much success with this method as it leaves the carpet looking new, clean, and pristine.
Do I have to vacuum before the technicians arrive?
You can vacuum; however, this is usually included within our service. Vacuuming will extract all loose debris from the carpet, serving as a pre-treatment so the machine is able to reach deep within the fibers to remove the embedded dirt.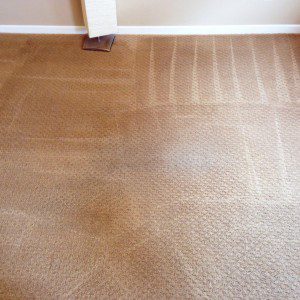 How long does the service last?
While the process requires 24 hours for the carpet to be cleaned and dried effectively, the job will only require a few hours. We work quickly to allow you to attend to other matters.
Do you move the furniture?
Yes. Each of our technicians will handle all large furniture with care. After the service is completed and the carpet is dry, ServiceMaster will move everything back to its original position. However, we do recommend that all plants, electronic equipment, and heavy furnishings stay off of the carpet while it is drying.
Does professional carpet cleaning soil the carpet faster?
It depends on the carpet cleaning service and the chemicals used. If any products are left within the fibers, it will create a residue that will attract dirt and debris. This is what will actually cause deterioration. Carpet cleaning services that do not have experience or use low quality machines may leave behind residues or cause wearing at the seams. However, ServiceMaster always uses safe chemicals that improve the condition of the carpet and actually extend its lifespan. This is because we have years of experience in both commercial and residential carpet cleaning as well as use advanced products and equipment.
Why are there bubbles or ripples in the carpet?
If the carpet needed stretching before the cleaning service, it is normal for bubbles or ripples to occur. However, once the carpet has been dry for a few days, this should go away on its own. If they do not go away completely, please call your local ServiceMaster.
If I have fleas in my carpet, will the cleaning kill them?
Not necessarily. Our products and equipment are specially designed for removing dirt and stains. This may or may not kill the fleas. We highly recommend that you treat the carpeting with a bug-killing product that is safe to use on the fibers.
How do you clean furniture?

Our technicians also use the hot water extraction method for furniture and other upholsteries. As it provides the best solution for fabric materials, it has also guaranteed the most customer satisfaction.
Hiring a Professional
There are a num
ber of questions you will want to have answered before having your carpet professionally cleaned. However, the technicians at ServiceMaster have years of training and experience to leave your carpet looking clean and new. While our specialized hot water extraction method is used to loosen the dirt that has been embedded deep within the fibers, it is also gentle on the material itself. With our carpet cleaning services, you can guarantee that your carpet will be returned to its like new condition within a day of starting the process.