Carpet Cleaning Costs Guide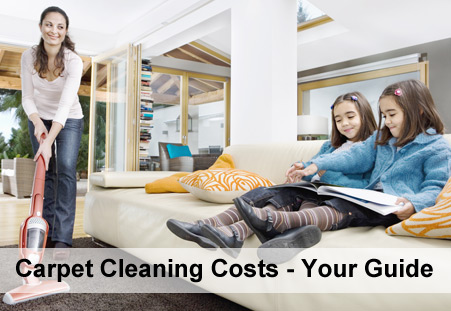 Regularly vacuuming the carpets is essential to extend the life of the fibers and to maintain a healthy home environment. Homeowners who suffer from asthma, snoring or other conditions that affect breathing, should vacuum thrice weekly. Aside from DIY vacuuming, a professional carpet cleaning performed once a year brings significant environmental and health benefits.
What are the benefits of professional carpet cleaning?
Pollutants, like pet dander, cockroach allergens, dust, dirt, and lead trapped inside the carpet fibers are forced out by powerful chemical carpet shampoos. Simply walking across toxins embedded within the carpet is enough to unleash them into the indoor air. Professional carpet cleaning eliminates toxins and contaminants.
Steam cleaning procedures that professional carpet cleaners utilize rid the carpeting of microscopic dust mites. While the dust mites do not provoke allergies, the feces and bodily fragments they leave behind can be inhaled and trigger allergies. High water temperatures during steam cleaning kill the dust mites.
Especially in high-humidity areas, carpeting can get damp. Walking across the carpeting in wet shoes traps moisture in the carpeting. The moisture lodged inside dirt-filled fibers allows mold to flourish. Professionally cleaned carpets dried by high-powered tools inhibit mold and mildew growth.
How does a home's size affect cleaning costs?
Some professional carpet cleaners base their prices in accordance with the home's square footage. Cleaning a small home, however, may be priced higher to make up for the cleaner's travel and material costs. Large homes are less costly to clean due to the fixed material and setup fees.
Carpet cleaning estimates vary based on square footage. Homes with 200 to 400 square feet may be cleaned for $80 to $130; 1000 to 1500 square feet may be cleaned for $200 to $300; 2000 to 3000 square feet may be cleaned for $400 to $550.
Other cleaners offer a fixed price, meaning each carpeted room can be cleaned for a flat fee regardless of the size. In instances where a size cap is instituted, a very large room may be treated as two rooms if the square footage exceeds the set maximum.
Do cleaning methods affect costs?
Steam cleaning or dry-cleaning carpeting affects the price. Both cleaning methods utilize specialized chemicals to rid the carpeting of contaminants. Steam cleaning is popular and has no impact on the carpet's warranty. Dry cleaning may receive foot traffic immediately afterward.
Steam cleaning flushes the carpet fibers with hot water. The high temperatures kill bacteria and loosen dirt and debris. An electric cleaner extracts the moisture, along with all the pollutants. Steam cleaning requires a period of 24 hours to thoroughly dry.
A property with 900 to 1000 square feet may be steam cleaned for $100 to $250; a 1200 to 1400 square foot home may be steam cleaned for $300 to $400; lastly, $400 to $500 covers the cost to steam clean a home with 1500 to 2000 square feet.
Dry cleaning, or low-moisture cleaning, offers a deep clean, but with less water. Although not as powerful as steam cleaning, dry cleaning a carpet keeps fibers free of debris for a prolonged length of time. The process uses a brush to loosen the dirt; the debris is then vacuumed up.
While the costs of dry cleaning a carpet vary among professional carpet cleaning companies, estimates may give homeowners a general idea of the price. A home with a square footage of 2200 may be dry cleaned for anywhere from $323 to $600.
Do carpet types affect the cleaning price?
Certain types of carpet fibers are easier to clean than others and influence the cleaning costs. From easiest to clean to the hardest, Berber carpets cost $90 to clean; cut and level loop carpet cleanings cost $60 to $120; and cotton and wool fiber carpet cleanings average $100 to $150.
Carpet fibers may be twisted in such a way that allows specific types to trap more dirt and debris. The twists in the fibers may be loose, medium or tight. Fibers with the tightest twists conceal the most dirt and, consequently, require the heftiest price to clean.
What are additional expenses?
Carpet cleaning services add on charges for various services. Cleaning carpeted stairs prompt an additional $2 to $3 per stair. Stains may be removed for ten cents per square foot ($30 per 300 square feet), but the size and type of stain determines the actual price for spot cleaning.
Deodorization of the carpet may be required, such as in instances of pet urine or other odors. Carpet deodorizing runs five cents per square foot ($15 per 300 square feet). When moving heavy furniture is necessary for cleaners to access the entire carpet, additional charges may apply.
Some companies may offer complimentary pre-spotting and deodorizing services. Homeowners may even ask about multi-room discounts. When the upholstery needs a deep clean, a variety of carpet cleaning professionals will offer a reduced rate for a combination of carpet and upholstery cleaning.
Importance of Professional Carpet Cleaning
Every year, schedule a professional carpet cleaning for your home. A freshly cleaned carpet revitalizes the room, extends the life of the carpet and promotes a healthy home space. Businesses, too, benefit from the deep carpet cleaning services provided by professionals.
Carpet cleaning professionals service all types of carpeting, from commercial to residential carpeting and from wool and nylon to polyester fibers. Experienced and certified technicians arrive at your home or business to conduct an initial inspection of the carpeting to determine carpet cleaning costs. A pre-cleaning that loosens the debris is followed by a deep steam clean for immaculate results. Any stain spots are removed during the process. A final inspection ensures the carpet cleaning exceeds industry standards.