Calgary Flood Clean-Up
Just two weeks before Calgary Stampede Park opened its' annual 10 day showcase of western heritage; devastating flooding swept through the city of Calgary and the communities surrounding southern Alberta.
Called "The Greatest Outdoor Show on Earth", Calgary Stampede attracts hundreds of thousands of international spectators, participants, vendors, and locals. The officials were determined the floods would not deter the event, despite the widespread damage to the grounds. To commemorate the historic tragedy and their unprecedented faith to overcome it, officials evoked the phrase "come hell or high water.
"When Elbow River crested in June the Grandstand, where the Stampede's premier rodeo and entertainment takes place, suffered great losses, along with the many other structures on the 200- acre property. ServiceMaster Recovery Management (SRM) was quick to respond, offering any assistance in the flood relief efforts that were to come. Specializing in 24-hour emergency service, SRM management got on the phone and within hours, was on a plane to Calgary. After reviewing the damage and the amount of work to be done in a two-week period, it was an "all call" back to headquarters.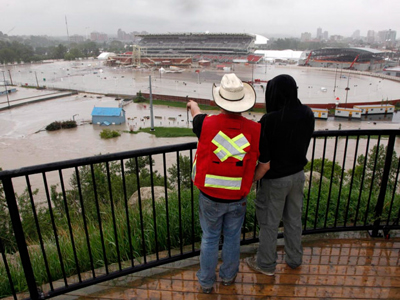 With over 700 locations of rapid response teams, SRM mobilized over 300 employees across North America that traveled to Alberta and began working with several other companies to clean up the grounds. Working along with crews from B.C. Manitoba, and as far as Ontario, together with Tervita, more than 46,000 hours – working day and night – were invested in repairing the grounds for opening day.
Leading the industry for over 20 years in disaster recovery expertise, structural drying and water treatment services, SRM makes continual investment in the most advanced equipment in the industry, and was more than capable of handling the mitigation and restoration projects for Stampede Park.
Whether flood, fire, or an act of nature, as it was for Calgary Alberta, the devastating outcome is the same. SRM has been there for businesses of all types, from hospitals, to schools, churches to hotels, and retailers to restaurants. In every situation, SRM has provided the services needed to get their clients back in business. Calgary Stampede was no exception. The work provided was met with many heartfelt thanks and much appreciation. As the Park and the communities in Alberta province continue rebuilding, the efforts put forth by ServiceMaster Recovery Management will be a welcomed symbol of service and support.
By Morris Goodwin
ServiceMaster Professional Services, Saint Cloud, Minnesota