Budget-Friendly Design Ideas to Transform Your Home
The first thing that comes to mind when you think of redesigning your home is that it is an expensive affair that you can't afford. Amazingly, when resources are limited, this is when your mind is able to think creatively and innovatively. Instead of brushing off the idea of redesigning your home, think of ways that you can use what you have to achieve your desired results. Here are 10 budget-friendly ideas that you can use to transform your home.
1. Add indoor plants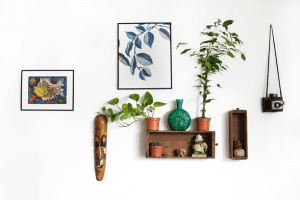 Indoor plants usher in natural beauty and color to a room in the most affordable way, plus they are ideal for any room regardless of the available space. Try different ways of placing them to create different feelings in a room. If you have limited space, you can hang them or place them on hanging shelves. Otherwise, you can place them on the floor where space is available.
Do not let lack of natural light hinder you from transforming your home with indoor plants. Invest in reliable grow lights to provide lighting to your plants. You now have a solution for brightening that boring corner in your living room.
2. Repaint the walls
Adding a fresh coat of paint on the walls, whether interior or exterior, doesn't have to be expensive. You can do it yourself, after all. You can decide to use the existing hue, or you can change it to a different shade for a fresh look. The latter, however, would mean changing a few accessories in the home to create a balanced feeling. Whether you like bold or soft colors, let your personality guide you in making the color choice.
3. Change window treatments
Most people underestimate the effect window treatments have on a room. The color, texture, fabric and how treatments are placed have a huge impact on the overall look of any room. Thus, changing window treatments can transform a room, and it is very affordable to do that.
Consider creating an illusion of a high ceiling by raising the window panels. Opt for materials such as cotton, linen, and silk to bring out the elegance in the windows. If you prefer having blinds, wood and woven bamboo always make a great choice.
4. Replace the pillows
One thing that can greatly contribute to your home feeling less elegant is having deflated pillows. Again, this is an area that is always underestimated, but pillows give life to your living space. They also offer extra support on the sofa and when you are comfortable on the sofa, you feel the elegance in the home.
Consider replacing your old pillows and throw pillows for fuller ones. When it comes to throw pillows, feel free to experiment with colors and textures. If they are not worn out, just replace the covers with ones that have different colors and textures according to your liking.
5. Use wall hangings
A budget-friendly alternative to repainting the walls is to spruce them up with wall hangings. Invest in unique art pieces or have some customized for you. You can even add a painting that you made yourself to create a more personalized feel. Family portraits also make a great choice when it comes to wall hangings that transform a home.
6. Get rid of old furniture
That old and ugly chair that you are holding on to probably for sentimental value is the undoing in your living room. You can hold on to something for so long, but if it is plainly ugly and old, then it is about time you got rid of it. Do not worry about the cost of replacing it, take advantage of the empty space to rearrange the rest of the furniture for a fresh look.
Alternatively, find an affordable replacement in second-hand shops. You can always change the upholstery to have it match the rest of your furniture.
7. Update your lighting
If you are still using standard lighting fixtures, replacing them with designer light fixtures can transform your home from an outdated space to an elegant, warm, and welcoming space. Start by updating that standard chandelier in your living room for a high-end look. Like we mentioned in point #6, you don't have to buy brand new designer light fixtures. You can get a unique piece in second-hand shops at a budget-friendly price. Plus, some fixtures such as table lamps can be repainted to give them a million-dollar appeal and increase the elegant feeling in the home.
8. Add décor mirrors
Decorative mirrors transform small rooms into spacious and elegant spaces. Okay, the room doesn't become magically bigger, but mirrors create an illusion of the room being bigger than it actually is. That is because they reflect natural light around the room and make "multiple windows" out of one small window. They can be hung on walls, placed on the floor, or even placed on tables. Most importantly, mirrors are the least expensive of all budget décor items.
9. Rearrange the furniture
Rearranging furniture will not cost you a dime but will change the look and feel of your home dramatically. You can, for example, improve flow in your living room by removing the couch that blocks traffic from the entrance and placing it against the opposite wall. If there is a piece of furniture you don't need anymore, donate it to a friend, move it to a different room, or throw it out. Place the TV stand on the wall facing the door to create a focal point. Reorganize kitchen furniture to improve its functionality.
10. Add an area rug
Area rugs are necessary for covering outdated and ugly floors. If your home is rented or if you don't have a remodeling budget, sewing together several rugs to make an area rug would yield incredible transformation. You can also use a rug to ground furniture groupings or to highlight a section within a large room. If yours is an open plan, probably for the kitchen, dining area, and the living room, you can use area rugs to define rooms.
Conclusion
Being on a budget should never hinder you from achieving a luxurious effect. There are endless design ideas that you can incorporate in your home transformation plan without breaking the bank. You do not have to tear down the whole house for redesigning. Changing little bits and pieces goes a long way. In addition, it is good to note that the largest part of redesigning costs lies in labor costs. You can always eliminate this cost by doing most of the work on your own or asking for help from friends or family.
Once you have renovated your home, you will want to do your bets to protect if from damage. However, it is nearly impossible to prevent damage from water leaks, spills, excess moisture, and even flooding.  Water can cause significant damage to your home so make sure you contact a water damage restoration professional immediately if your home is affected.